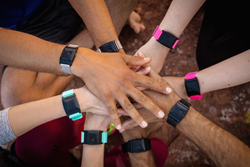 I believe deeply in providing access to neuroscientific discoveries to anyone who needs relief," explains Dr. Serin, Chief Science Officer and Co-Founder for The TouchPoint Solution™
SCOTTSDALE, Ariz. (PRWEB) June 08, 2017
When the team at The TouchPoint Solution™ began preparing for their second-ever crowdfunding campaign, they had a feeling it would be a crowd-pleaser. After orders for the new product through Indiegogo hit the stated goal in just 36 hours, even their own high expectations were blown right out of the water.
Since the late 2016 launch of its first neuroscientific stress-hacking wearable devices, TouchPoints™ original (formally known as Buzzies), The Touchpoint Solution™ has committed itself to creating accessible neurotechnology that empowers their users to reduce their stress by up to 71 percent in just 30 seconds.
Company co-founders Dr. Amy Serin and Vicki Mayo fundamentally understand stress and the effect it can have on the body, and our society. Through their unique combination of neuroscience and life experience, the pair leverages this knowledge to continuously develop lifestyle technology products tailored to the public's needs.
Their newest product, TouchPoints™ basic, were designed with users and their needs at the forefront, offering customers a streamlined model of the original stress-busting TouchPoint™ devices, perfect for customers looking for affordable, effective and fast-acting stress relief.
Based on the already successful product TouchPoints™ original, this new version is designed to relieve stress and anxiety, as well as improve focus, reduce cravings, improve performance, manage anger, reduce sensory overload, and promote more restful sleep.
"I believe deeply in providing access to neuroscientific discoveries to anyone who needs relief," explains Dr. Serin, Chief Science Officer and Co-Founder for The TouchPoint Solution™. "This technology should not be confined to a doctor's office, rather, it should be readily available and easy to use. It is this belief that drove me to create TouchPoints™ original and I feel strongly that TouchPoints™ basic can impact even more people by making the technology more affordable and accessible to all."
The TouchPoint Solution™ refers to TouchPoints™ as "stress hacks", and that is exactly what they are. Similar to their first wearable tech product, TouchPoints™ original, TouchPoints™ basic use BLAST (Bi-lateral Alternating Stimulation Delivered Tactile) technology, emitting gentle, alternating vibrations that reroute the body's stress-driven fight, flight, or freeze (F3) response and restore the nervous system to its normal functions, allowing users to think clearly and experience calm. The new devices come in a variety of fun, stylish colors, and operate independently of an app, making them ideal for users searching for powerful stress relief that is easily incorporated into everyday life.
TouchPoints™ basic are available to pre-order starting at $99 at https://igg.me/at/touchpoints, through the end of June. A set of TouchPoints™ basic includes two TouchPoint™ devices (one for each side of the body) as well as charging cables and clips for attaching the devices to clothes. Additional accessories, including colorful wristbands, are available for purchase separately.
Visit The TouchPoint Solution's™ media page for more (https://ilovetouchpoint.com/a/press-kit)
About The TouchPoint Solution™
Neuropsychologist Amy Serin, Ph.D., and child advocate Vicki Mayo founded The Touchpoint Solution™ in late 2015 with the mission of bringing relief to the millions of people who suffer from stress and anxiety. Over the last decade, Dr. Serin's work in therapy and neuroscience led to the discovery that a component of successful PTSD treatment could be used as a stand-alone product for a range of individuals whose stress and intensities hamper performance, relaxation, sleep, and their ability to cope with sensory stimuli. Dr. Serin recognized that this method was too powerful to be confined to doctors' offices and partnered with long-time friend and entrepreneur Vicki Mayo to bring TouchPoints™ to the world.
About TouchPoints™ basic
TouchPoints™ basic are non-invasive, wearable devices that use patent-pending neuroscience technology to relieve stress and anxiety, improve focus, reduce cravings, improve performance, manage anger, reduce sensory overload and promote more restful sleep. They come in a set to be worn on both the right and left side of the body, on wrists or in discrete locations such as in the hands, socks or pockets. TouchPoints™ basic are available to pre-order starting at $99 at https://igg.me/at/touchpoints.