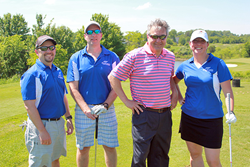 (PRWEB) June 08, 2017
Andrews Federal Credit Union sponsored the Mt. Vernon Lee Chamber of Commerce's 19th Annual Golf Classic at the Laurel Hill Golf Club in Lorton, Virginia. The tournament benefits the Chamber's business scholarships, which since its inception, has provided $175,000 for graduating high school students.
The Andrews Federal team consisted of Oma George, Chief Retail Officer, Todd Fox, Director of Real Estate Lending, Eric Stegner, Director of Information Risk, Stan Koussis, Community Development Manager and George Ksenics, VP of Information Technology.
"Many thanks to the Mt. Vernon Lee Chamber for hosting an amazing event," said Andrews Federal's Oma George, Chief Retail Officer. "We are always willing to support the local community and such a worthy cause."
About Mt. Vernon Lee Chamber of Commerce
Since 1954, MVLCC has been the premier business organization to represent both Lee and Mount Vernon districts in Fairfax County, Virginia. Their mission is to champion business and build community in partnership with our members. Today, more than 300 businesses belong to this organization.
About Andrews Federal Credit Union
Andrews Federal Credit Union was founded in 1948 to serve the needs of military and civilian personnel by providing a vast array of financial products and services. With over $1.5 billion in assets, Andrews Federal has grown to serve more than 120,000 members in the District of Columbia, Joint Base Andrews (MD), Springfield, Virginia (VA), Joint Base McGuire-Dix-Lakehurst (NJ), and military installations in central Germany, Belgium, and the Netherlands. In addition, the Credit Union serves as a financial partner with many select employee groups in Maryland, the District of Columbia, Virginia and New Jersey.
To learn more about Andrews Federal Credit Union and its community involvement, or to become a member, call 800.487.5500 or visit http://www.andrewsfcu.org.