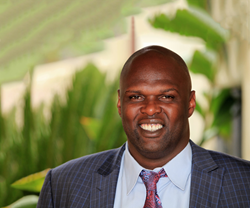 As a proud alumnus, I am appreciative of the University's continued support of my community outreach efforts, which makes me both honored and proud to address the Class of 2017.
Pleasant Hill, Calif (PRWEB) June 08, 2017
John F. Kennedy University alumnus Adonal Foyle, the former Golden State Warrior defensive specialist, will be the keynote speaker at the JFK University Commencement Ceremony on June 24, 2017 at the Paramount Theater in Oakland. As the founder of multiple nonprofit organizations that promote education and health awareness for youth, Foyle's dedication to philanthropic efforts align with the University's core values of positively affecting society through education and service to the community.
"At John F. Kennedy University, we aim to inspire personal, professional and academic growth in students to advance the well-being of local and global communities," said JFK University President Debra Bean. "We are honored to have alumnus and friend Adonal Foyle address our graduates, as his leadership and commitment to helping others serves as a benchmark for all of our graduates."
Foyle earned his master's degree in sport psychology from JFK University in 2011, following his 12-year career in the NBA. A closer look at his life journey underscores how education was always a priority. Even as he was recruited by some of the nation's top collegiate basketball programs as a teen, Foyle attended a small liberal arts college in upstate New York because of his desire to secure a strong academic grounding. Foyle earned his bachelor's degree in history, magnum cum laude, from Colgate University as a professional basketball player two years after being selected with the eighth pick in the 1997 NBA draft.
As a young NBA center, Foyle founded Democracy Matters, a non-partisan student organization aimed at addressing apathy on college campuses. Four years later, he founded the Kerosene Lamp Foundation, a nonprofit which organizes basketball camps, provides health counseling for children, and mentors at-risk youth in the United States and the Caribbean. The nonprofit's name alludes to the lighting Foyle had to use for studying as a child on an island with no electricity, and it symbolizes his mission to brighten the futures of today's youth. Foyle, who played ten seasons with the Golden State Warriors, currently serves as a Community Ambassador for the team and gives back to the East Bay community by helping to support programs on education, cultural diversity, social responsibility, health & fitness and the arts.
Faculty and students of the sport psychology program at JFK University, the same program Foyle was part of, dedicate their time to the Solt Evans LEAP Project, an initiative designed to help youth from underserved populations succeed in school, sports and life through mental skill building. The University and Foyle share a passion and work together on youth-focused initiatives to empower youth in realizing their potential, understanding how to reach it, and making thoughtful decisions along the way.
Born on a destitute Caribbean island in the nation of St. Vincent and the Grenadines, Foyle developed an awareness of the importance of teaching young people life skills like respect for oneself and others. His future changed after being adopted as a teen by Jay and Joan Mandle, college professors in the United States. Besides his far-reaching philanthropic endeavors, Foyle is a witty basketball TV commentator for After the Game on NBC, serves as a Community Ambassador for the Golden State Warriors, and has authored several books including an inspirational book for young readers called Too-Tall Foyle Finds His Game and a book geared toward fiscal responsibility Winning the Money Game: Lessons Learned from the Financial Fouls of Athletes.
Foyle has received numerous awards for his outstanding character and exemplary civic responsibility. He received the Mayor of San Francisco's Sports Hero Award and the Athlete with a Heart award from the American Heart Association. In 2009, he was inducted into the World Sports Humanitarian Hall of Fame for helping voting-age youth understand campaign finance reform in America, and he has been recognized many times by the Warriors, the NBA, the Sporting News and others for his achievements. Foyle embodies JFK University's motto, Education for Change, through dedication to education and philanthropic efforts. As one of the University's 2014 Alumni of the Year award recipients, Foyle, along with all JFKU graduates has an understanding of the importance of service learning and giving back to the community.
"Being a student at JFK University is unique because you are studying with and surrounded by so many people who share your passion for making a difference in the world," said Foyle, who holds the Warriors franchise record for blocked shots with 1,140. "As a proud alumnus, I am appreciative of the University's continued support of my community outreach efforts, which makes me both honored and proud to address the Class of 2017."
John F. Kennedy University 2017 Commencement Ceremony is set for 1:00 PM on Saturday, June 24 at the Paramount Theatre in Oakland. It will be presided over by JFK University President Debra Bean. Nearly 400 graduates are expected to attend the ceremony, which includes students completing their degree programs online and at the University's campuses in Pleasant Hill, Berkeley and San Jose.
# # #
About JFK University
For over 50 years, John F. Kennedy University, a nonprofit affiliate of the National University System, has offered undergraduate, graduate, and doctoral programs that prepare individuals for career success while also engaging the student in personal growth through a commitment to service. Today, the University's three Colleges provide innovative higher education opportunities to 1,200 professionals who, despite a full range of life responsibilities, are determined to advance their education and improve their future. The Continuing Education division provides professional development education to more than 2,500 individuals per year. A pioneer of education that integrates theory and practice, John F. Kennedy University and its students touch the lives of more than 30,000 people in Bay Area communities every year through their support of outreach centers and public programs. For more information, visit http://www.jfku.edu.