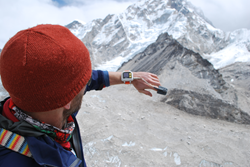 We wore the MTS devices during the trek, and sometimes overnight, to record heart rate and oxygen saturation continuously
Indianapolis, Indiana (PRWEB) June 13, 2017
Medical Test Supply's new OX-610A pulse oximeter is being used by a research group at Mt. Everest Base Camp to conduct research on how the human body adapts to low-oxygen environments.
The study is being conducted by the Xtreme Everest research group. Their goal is to improve treatments of hospital patients, whose illnesses inhibit their ability to get oxygen to their blood and organs.
"Our aim is to find out more about how blood oxygen levels change, from moment to moment, as we ascended from Kathmandu to Everest Base Camp," said Dr. Helen McKenna, Xtreme Everest and Critical Care Translational Research Fellow. "We wore the MTS devices during the trek, and sometimes overnight, to record heart rate and oxygen saturation continuously."
Dr. McKenna said the data gathered from the pulse oximeters will be used to learn about the cardiovascular and respiratory responses the human body makes to the lack of oxygen. "We are particularly interested in how these values change during sleep," she said.
MTS provided eight pulse oximeters to Xtreme Everest. They are being worn by volunteers as part of the test.
Dr. McKenna said the information will be valuable in improving treatments for sick patients. "By integrating the information from the MTS oximeters with data from other devices, we aim to understand more about human acclimation to high altitude," she said. "Ultimately, we want to improve the management of critically ill patients in the intensive care unit, who also suffer from low blood oxygen levels."
The OX-610A is ideal for active users, like the Xtreme Everest volunteers, as well as hikers, cyclists, hikers and runners, as well as patients with Parkinson's disease, seizures, tremors or other hand movements.
Light, comfortable and automatic, the OX-160A turns on and starts recording as soon the user inserts a finger into the sensor. It turns off and stops recording when the finger is removed. It has anti-motion hardware and algorithm to enhance the measurement capability in challenging applications.
The OX-610A records up to 60 hours of data collected at one-second intervals. The intervals can be adjusted to permit collection of up to 480 hours of data. The included data management software can be used to store information and generate reports for up to five individual users.
For more information about the MTS OX-610A pulse oximeter, as well as other medical devices, visit medicaltestsupply.com.
###