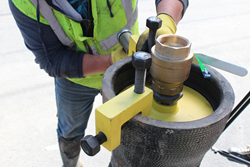 Approved & recommended by the Department of Design & Construction in New York City.
Red Bank, New Jersey (PRWEB) June 09, 2017
This is about a contractor, who in the aftermath of 9/11, knew there had to be a quicker, more efficient way of capping water mains. It's about a product so effective that it has been used all over New York City – a city with arguably the largest and most complex infrastructure in the world.
We're talking about the West Shore Night Cap, a patented new system developed by Mike Schaaff, an individual whose firm is often called upon to address emergency situations involving municipal water supplies.
On 9/11, Mike's crew was working within blocks of the World Trade Center when the call came to assist in restoring water for emergency crews at the scene. Using traditional methods, it took over an hour to get water flowing to the NYFD units on site. According to Mike, "It was heartbreaking to know that every minute my crew took trying to restore the water was a minute that could have been spent putting out fires and potentially saving lives".
Determined to eliminate any possibility of a similar delay occurring in the future, Mike spent the better part of the next 10-years perfecting what has become the West Shore Night Cap – a cap that can be installed by one man within five minutes, substantially reducing labor time and cost, while quickly restoring critical water supply. Prior to the introduction of the Night Cap System, it was not uncommon for the same repair to take two men with a machine up to an hour or more at an average cost of a thousand dollars per hour.
The importance of controlling labor time & costs moving forward.
With many municipalities across the country already struggling with the prospect of funding current and future infrastructure upgrades, the importance of controlling labor time and related costs is critical. The benefits derived from the use of West Shore's Night Cap are undeniable.
Realistically, how extensive is the need for a product like this?
To answer that question, let's take a moment to consider the fact that according to the American Water Works Association (AWWA), "there are an estimated 240,000 water main breaks in the United States each year. At the same time, much of our drinking water infrastructure is nearing the end of its useful life. There are pipes in use today that date back to the Civil War era and are seldom examined until a problem occurs or a water main breaks".
According to Environmental Protection Agency (EPA) estimates, approximately 4,000 to 5,000 miles of drinking water mains are replaced annually. The annual replacement rate is projected to peak around 2035 at 16,000 to 20,000 miles of aging pipe replaced each year. Meanwhile, pipes installed during the middle of the 20th century are likely to begin failing in large numbers further validating the need for a quicker response capability.
Use of the product can save municipalities thousands of dollars a day.
The West Shore Night Cap is a heavy-duty system designed for municipal and industrial plumbing applications where ductile pipe needs to be capped off quickly and safely. Tested to extreme, the Night Cap can withstand pressure up to 321 PSI, and due to its pre-drilled cap and standard blow off valve, the cap enables a crew to flush and restore water within minutes vs. hours. Installation involves four easy steps and requires no machinery, drilling or rod banding. The Night Cap enables contractors to cap standard pipe sizes from 6 to 20 inches in diameter. The pure simplicity of the Night Cap's patented design prompts the inevitable question of "why didn't I think of that". The concept makes that much sense.
According to Mario Laperuta, owner of Laperuta Construction, "Use of the Night Cap has enabled my crew to increase production. I get at least two more pipe a day because of it. It has cut overtime down to a minimum. It's unbelievable."
--
For Additional Information:
For more specifics on how the West Shore Night Cap can reduce labor time and costs, and in some cases even save lives, call Mike Schaaff at 646-423-4141. Mike would be pleased to answer whatever questions you may have, and/or schedule a live demo at your convenience.
West Shore industries will be exhibiting at the AWWA ACE17 Annual Conference and Exposition in Philadelphia, PA from Monday, June 12 – Wednesday, June 14 2017. The company will be exhibiting at booth #3413, will be available to address questions and inquiries, and will have product samples at the booth.
West Shore Night Cap: U.S Patent No. 62039624