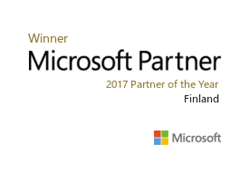 The latest Microsoft cloud technologies and seamless integration with Office 365 are core to our strategy to provide a smooth on-ramp to the cloud.
Dallas, TX (PRWEB) June 12, 2017
M-Files Corporation, a provider of a new class of intelligent information management solutions that empower users to drive innovation and unify information across the organization to dramatically improve how organizations manage documents and other information, today announced it has won the 2017 Microsoft Country Partner of the Year Award for Finland. The company was honored among a global field of top Microsoft partners for demonstrating excellence in innovation and implementation of customer solutions based on Microsoft technology.
"Being named as a Microsoft Partner of the Year is a great milestone. M-Files is fundamentally changing how organizations will use information to innovate and drive growth with a new approach that we call intelligent information management," said Jim Geary, executive chairman at M-Files Corporation. "By incorporating artificial intelligence and a repository-neutral architecture, M-Files is revolutionizing the traditional 'one size fits all' ECM market. The latest Microsoft cloud technologies and seamless integration with Office 365 are core to our strategy to provide a smooth on-ramp to the cloud, and deliver easy to use solutions that empower individuals to work smarter and find what they need faster, no matter where it's stored or what system they using."
Awards were presented in several categories, with winners chosen from a set of more than 2,800 entrants from 115 countries worldwide. M-Files was recognized for providing outstanding solutions and services, as well as representing excellent subsidiary engagement in Finland.
The Microsoft Country Partner of the Year Awards honor partners at the country level that have demonstrated business excellence in delivering Microsoft solutions to multiple customers over the past year. This award recognizes M-Files as succeeding in effective engagement with its local Microsoft office while showcasing innovation and business impact, driving customer satisfaction and winning new customers.
"We are honored to recognize M-Files of Finland as a Microsoft Country Partner of the Year," said Ron Huddleston, corporate vice president, One Commercial Partner, Microsoft Corp. "M-Files is a prime example of the expertise and innovation we see in our Microsoft partner community to deliver transformative solutions."
The Microsoft Partner of the Year Awards recognize Microsoft partners that have developed and delivered exceptional Microsoft-based solutions over the past year.
M-Files has been growing much faster than the overall market, as well as any individual competitor, and has been recognized by Gartner and Forrester as a visionary and a leader. With over 7,000 customers around the world, and an ecosystem of business partners in over 100 countries, M-Files is changing the way the world manages information.
The list of Microsoft 2017 Partner of the Year award winners is available online at https://partner.microsoft.com/en-US/inspire/awards.
About M-Files Corporation
M-Files enterprise information management (EIM) solutions eliminate information silos and provide quick and easy access to the right content from any core business system and device. M-Files achieves higher levels of user adoption resulting in faster ROI with a uniquely intuitive approach to EIM and enterprise content management (ECM) that is based on managing information by "what" it is versus "where" it's stored. With flexible on-premises, cloud and hybrid deployment options, M-Files places the power of EIM in the hands of the business user and reduces demands on IT by enabling those closest to the business need to access and control content based on their requirements. Thousands of organizations in over 100 countries use the M-Files EIM system as a single platform for managing front office and back office business operations, which improves productivity and quality while ensuring compliance with industry regulations and standards, including for companies such as SAS, Elekta and NBC Universal. For more information, visit http://www.m-files.com.