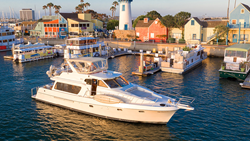 Los Angeles, CA (PRWEB) June 08, 2017
The Duchess Yacht (https://www.theduchessyacht.com/), an upscale Yacht Charter Service created by Captain Skip Rutzick three years ago, is enjoying overwhelming popularity serving the entire Marina Del Rey harbor.
"It is incredible to watch the growth and the popularity of the Duchess," said Rutzick. "We seem to be filling a void that must have existed, and we are very proud to be doing so.
Marina del Rey is North America's largest man-made small craft harbor, and currently the home of approximately 6,100 boats. The harbor, the Los Angeles Times said in 1997, is "perhaps the county's most valuable resource."
The Duchess Yacht is a beautiful and luxurious 63 ft. Motor Yacht, captained and crewed with well over 40 years on the water experience, while sporting endless comforts on the water.
According to owner, Captain Skip, "The Duchess Yacht offers any type of Private Charter imaginable, from Harbor & Sunset Cruises, to Day Cruises, Water Sports Charters, Fishing Charters, Whale Watching and Dolphin Viewing Charters. Overnight Destination Charters to Catalina Island are popular, and cruises as far as San Francisco to the North and San Diego to the South while stopping at the Channel Islands in-between are available." Marriage Proposals, Weddings at Sea, Memorial Charters are just a few more of the various events we do aboard The Duchess.
The Duchess Yacht is located on 14120 Tahiti Way, Marina del Rey, CA. 90292. Call Skip at 800-676-1470 or email him at info(at)theduchessyacht.com for more information on services and booking.