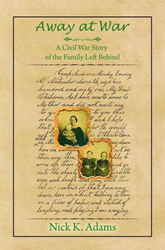 "A moving chronicle of the experience of war and a compelling story with relevant historical references. Well-crafted, reads like a real piece of history!" – 5-Star Readers' Favorite Review
(PRWEB) June 13, 2017
What does it take to keep home and family together when soldiers go off to war? Civil War buffs will especially enjoy this historical book of survival showing the home front side of war.
This true story of endurance and loss during the American Civil War opens with David Brainard Griffin's farewell to his family, as he heads off to fight, promising to return to his farm in Minnesota. But Brainard never returns. His wife and their children, ages 7 years, 5 years, and 9 months, are left behind to run the farm on their own. Minnesota's harsh seasons dictate the cycles they must follow, and even with the help of family and friends, the hardships and responsibilities are almost beyond them.
"Away at War" is based on 100 letters Brainard wrote his family, mostly from Kentucky and Tennessee during his two years with the 2nd Minnesota. The letters ended with his death at the Battle of Chickamauga in Georgia.
"'Away at War' introduces the reader to the terrible impact, the pain and anxiety, and the untold suffering war causes family members left behind. A moving chronicle of the experience of war and a compelling story with relevant historical references. Well-crafted, reads like a real piece of history!" – 5-Star Readers' Favorite Review
About the Author: Nick K. Adams grew up in Los Angeles County and now lives in Lakewood, Washington. After retiring from a career in elementary education, he continues to speak at schools, libraries, service clubs, and Civil War Round Tables. The author is also an avid Civil War re-enactor, as it was his great-great grandfather who wrote these letters as he fought to preserve the Union. The author's previous books are: "The Uncivil War: Battle in the Classroom," and "My Dear Wife and Children: Civil War Letters from a 2nd Minnesota Volunteer."
Author website: http://www.Civil-War-Letters.com
"This stunning book about a Family Left Behind during wartime tells a tale of war like no other. We are thrilled to announce its release," said Robert Fletcher, CEO of Strategic Book Publishing and Rights Agency.
AWAY AT WAR: A CIVIL WAR STORY OF THE FAMILY LEFT BEHIND (ISBN: 978-1-68181-992-1) is now available for $19.95 and can be ordered through the publisher's website:
http://sbprabooks.com/NickKAdams or at Amazon.com or Barnesandnoble.com.
WHOLESALERS: This book is distributed by Ingram Books and other wholesale distributors. Contact your representative with the ISBN for purchase. Wholesale purchase for retailers, universities, libraries, and other organizations is also available through the publisher; please email bookorder@sbpra.net.