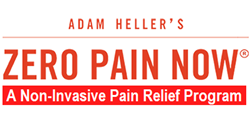 Los Angeles, CA (PRWEB) June 09, 2017
Saint Augustine once said that "the Greatest Evil is Pain." Thanks to Adam Heller and his extensive research, Saint Augustine's words are becoming a thing of the past. A new era of effective and safe pain relief has arrived and it is readily available to the public.
Adam Heller was fed up with the inadequacy of the pain management industry. He stated, "loose regulations and overemphasis on dangerous opioids led to a drug abuse epidemic. Day after day, surgeons were failing to provide the long-term pain relief for their patients, and the U.S. continued to waste 600 billion dollars every year on ineffective pain relief treatments." Heller, motivated to stop this unnecessary suffering from continuing, started researching possible solutions. He dedicated many years and thousands of hours of his time to studying and observing people with and without pain, and discovered better, more conservative and permanent pain relief techniques from the best teachers and doctors in the country.
As a result of all of Heller's hard work and research, he created the Zero Pain Now® certification training, the first certification program with an emphasis on permanently eliminating chronic pain: https://zeropainnow.com/training/
Heller states, "We here at Zero Pain Now have a 97.4% success rate in eliminating pain for our patients, specifically in patients diagnosed with bulging discs, herniated discs, spinal stenosis, or fibromyalgia." Our training program provides an opportunity for graduates to maintain the same extraordinarily high success rate.
A write-up from a Mayo Clinic Pilot stated, "Following the Zero Pain Now intervention, all patients were completely pain-free and ALL costs associated with managing their pain ceased!"
Heller is now offering the first ever certification program for people to learn these proven pain relief techniques and apply them both in private practice and in the workforce. "This is the best opportunity for coaches, health workers, therapists and anyone who wants to help people get more clients and increase income," says Heller.