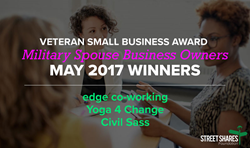 Washington, DC (PRWEB) June 09, 2017
The StreetShares Foundation announced today three winners of the Veteran Small Business Awards, which was dedicated to military spouse business owners.
First Place: Brooke Barnes and Jessica Johnson, Air Force Military Spouses, Co-founders of edge co-working (Clovis, New Mexico) $5,000
Second Place: Kathryn Thomas, Navy Veteran and Military Spouse, CEO of Yoga 4 Change (Jacksonville, Florida) $3,000
Third Place: Abbey Sass, Army Military Spouse, Co-founder of Civil Sass (Chatfield, Minnesota) $2,000
About the Winners
Brooke Barnes and Jessica Johnson, Co-founders of edge co-working
Brooke Barnes and Jessica Johnson, Co-founders of edge co-working and both Military Spouses to active duty Air Force members, started a co-working space because they saw other military spouses like them, who wanted to continue their careers.
"Jessica and I were lucky to take our jobs with us," Brooke said. "We missed being around the office, socializing and feeling motivated from coworkers."
They started edge co-working in a small town where there aren't that many job opportunities and no other co-working spaces for military spouses, consultants and entrepreneurs.
Brooke and Jessica plan to use the $5,000 toward marketing, bringing in professional speakers and career coaches and licensing their business to serve military spouses all over the country in smaller cities.
Click here to learn more about the winners.
Kathryn Thomas, CEO of Yoga 4 Change
Kathryn Thomas served in the U.S. Navy for seven years, a dream of hers since she was 11. Kathryn injured her ankle while deployed, which led to other injuries and medical retirement. To recover, Kathryn turned to yoga. She founded Yoga 4 Change, a nonprofit that brings a purpose-driven yoga curriculum to veterans, incarcerated individuals, vulnerable youth and those suffering from substance abuse.
"It doesn't matter if someone was incarcerated or struggling with PTSD," Kathryn said. "If someone has gone through a certain path, he or she doesn't have to repeat it."
Yoga 4 Change has served more than 20,000 individuals all over the Jacksonville, Florida region. The 12 yoga instructors teach at different facilities such as correctional facilities, prisons, outpatient clinics, schools and halfway houses. Duval County judges are incorporating Yoga 4 Change into prisoners' rehabilitation program.
Abbey Sass, Co-founder of Civil Sass
Abbey Sass and her Army veteran husband, Jacob Sass, co-founded Civil Sass, a hops farm serving craft breweries in Minnesota. Both Abbey and her husband Jake grew up on farms and always looked to get back into farming.
"With the craft beer industry booming here in Minnesota, there's a huge demand for local ingredients," Abbey said. "Hops grow well in our latitude and in the last four years more people have developed small farms all over Minnesota. Most hops ingredients come from the west, but more are popping up in the Midwest."
Civil Sass farms are located in Chatfield, Minnesota, a town full of Civil War history. Abbey and Jacob currently have one acre of hops with 700 plants.
"We're in our first season of growing hops. It's just my husband and myself with some help from family and friends, so it's a ton of work – about 15 hours a day in the yard," Abbey said.
About StreetShares
StreetShares Foundation, located outside of Washington, D.C., is a nonprofit affiliated with StreetShares, Inc. The mission of the StreetShares Foundation is to inspire, educate, and support veterans' business ownership. Cash awards are given to veteran, current reserve, active duty members and military spouse business owners. Top veteran business owners are presented online for a public vote.
StreetShares, Inc. provides financial solutions for America's heroes and their communities. Business owners get fast, affordable business term loans, lines of credit or government contract financing through investors who support their businesses. Investors earn solid returns and back businesses they believe in. As a leader in the affinity-based lending model, StreetShares is veteran-run and focuses on the military and veteran business community.