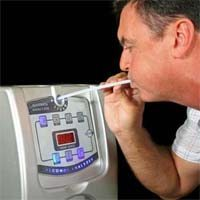 This method seems very promising in the early detection of diverse malignancies...
(PRWEB) June 09, 2017
Doctors in Belgium are calling the prospect of a diagnostic breath test for pleural mesothelioma "very promising" based on their analysis of early studies on the technique. Surviving Mesothelioma has just published a new article on that research. Click here to read it now.
The new report published by scientists at Ghent and Antwerp Universities points out that blood- and serum-based biomarker tests for mesothelioma are limited in their effectiveness and cannot identify mesothelioma before symptoms develop. A breath analysis for pleural mesothelioma may get around some of the shortcomings of current diagnostic tests.
"This method seems very promising in the early detection of diverse malignancies, because exhaled breath contains valuable information on cell and tissue metabolism," writes Ghent University researcher Sabrina Lagniau in the journal Oncotarget.
According to their report, early studies on breathomics testing for pleural mesothelioma show that it is simple, fast, non-invasive, and inexpensive to perform.
"Not only are current diagnostic tests limited in their ability to detect mesothelioma, but they can also be expensive and time-consuming to analyze," says Alex Strauss, Managing Editor for Surviving Mesothelioma. "The simplicity and accessibility of breath testing means that it has the potential to identify mesothelioma earlier and in more people."
To read more about breathomics-based testing for mesothelioma, see A Breath Test for Mesothelioma?, now available on the Surviving Mesothelioma website.
Lagniau, S, et al, "Biomarkers for early diagnosis of malignant mesothelioma: Do we need another moonshot?", May 17, 2017, Oncotarget, Epub ahead of print, https://www.researchgate.net/publication/317024773_Biomarkers_for_early_diagnosis_of_malignant_mesothelioma_Do_we_need_another_moonshot
For more than a decade, Surviving Mesothelioma has brought readers the most important and ground-breaking news on the causes, diagnosis and treatment of mesothelioma. All Surviving Mesothelioma news is gathered and reported directly from the peer-reviewed medical literature. Written for patients and their loved ones, Surviving Mesothelioma news helps families make more informed decisions.