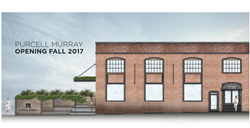 San Francisco's Design District is a world-class epicenter for interior design, and we are looking forward to our space's official opening this fall.
San Francisco, Calif. (PRWEB) June 12, 2017
Purcell Murray Company, the leading distributor of premium kitchen appliances, decorative plumbing, fine hardware and cabinetry, announced today it will open a flagship showroom at 235 Kansas Street in the heart of San Francisco's bustling Design District – the city's design hub for the home, fashion and jewelry industries. Opening this fall, the interactive showroom–with functional kitchen and bath displays–will serve as a resource center for consumers, architects and designers to specify and learn about new products, in addition to serving as a training facility for sales teams and a meeting space for industry professionals. While Purcell Murray does not sell direct, customers are assisted throughout their projects and referred to any number of authorized resellers.
Situated in Showplace Square South, the 4,200-square-foot showroom is within walking distance to all the major design buildings in the district, including San Francisco Design Center, Galleria and Design Pavilion. The new Purcell Murray space boasts a bright, open floorplan with "Tiffany Windows" opening onto the vibrant Kansas Street, which enables the brand to showcase a curated selection of products from the finest European and North American appliance and bath manufacturers like Bosch, Thermador, Gaggenau, Bertazzoni, U-Line, La Cornue, Irinox, Hestan and Coyote, Franke, KWC, MGS and Falper. Purcell Murray will host live demonstrations and visitors can interact with each display at the showroom, offering a full immersion into the Purcell Murray experience.
"San Francisco's Design District is a world-class epicenter for interior design, and we are looking forward to our space's official opening this fall," said Matthew Murray, managing director at Purcell Murray Company. "We're excited about this next chapter in our company's history by offering a new, curated experience center for our clients. We welcome the Bay Area's architect and design community to stop by and take advantage of our showroom to specify projects, interact with our brands and learn about new technologies and products offered by Purcell Murray."
The Purcell Murray showroom will be open Monday through Friday 9:00 a.m. to 5:00 p.m. or by appointment to both consumers and trade professionals. Complimentary parking is available on site. Products and appliances on display at the showroom are available to purchase through authorized dealers. To learn more about showroom programming, please visit http://www.purcellmurray.com
About Purcell Murray Company
Purcell Murray is a leading distributor, sales, marketing, brand representation and service organization in North America for mid-to-high-end kitchen appliances, decorative plumbing and fine hardware. Established in 1981, Purcell Murray has evolved into a multifaceted operation with a hybrid business platform offering a full range of supply chain and logistical services for manufacturers and importers – providing both regional market support and nationwide coverage options. The family owned and operated company boasts a fully integrated sales, marketing and customer support service center. Dedicated sales teams focus on the retail, builder, hospitality/contract, architectural and designer channels. The company has two stocking/distribution hubs that include a 193,000-square-foot facility in Oakland, California, and a 123,000-square-foot warehouse facility in Southern California. Recognized appliance brands include: Bosch, Thermador, Gaggenau, MGS, Bertazzoni, Best, Broan, Coyote, Hestan, La Cornue and Irinox. For more information visit: http://www.purcellmurray.com