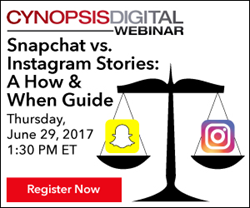 New York, NY (PRWEB) June 09, 2017
Programmers, brands and marketers are now faced with a complex question in the social media landscape: how to determine when it's best to use Snapchat vs. Instagram Stories. The newest Cynopsis Digital webinar, Snapchat and Instagram Stories: A How & When Guide, on Thursday, June 29, will focus on which features are unique to these essential tools, the demos reached on either app, and when - and how - to implement a dual strategy that incorporates both platforms.
David Teich, Associate Editor for Cynopsis Digital, will host the June 29 webinar along with the following speakers: Abbi McCollum, Director of Social Media & Convergence for HGTV, Travel Channel DIY Network and GAC; Corey Smock, Director of Partnerships for Laundry Service & Cycle and Will Thompson, Social Media Director for Giant Spoon.
The session will allow for real time Q&As to ensure specific questions are answered. During the interactive webinar, attendees will also learn:

How to generate programming and marketing content that feeds goals such as driving tune-in and increasing brand awareness
Strategies for creating programming and marketing content for the features that are unique to Snapchat, such as messaging and the Discover platform, and for the ones that are unique to Instagram Stories, such as its higher prevalence of social influencers and interactive ad formats
Best practices for buying and selling ad inventory on both platforms
Expert Projections on what the two platforms' user bases will look like in a few months, and a few years
Tips on how to plan for the future when it comes to content and marketing strategies
Register your team today for the Cynopsis Digital webinar "Snapchat and Instagram Stories: A How & When Guide."
All webinar attendees will receive full access to speaker presentations for 1 year. Webinar tuition is based on location, not number of participants, so each registration site can have multiple participants for one low price. Questions? Contact Trish Pihonak at trish(at)cynopsis.com.
About Cynopsis Media:
Cynopsis is what the TV industry reads first every day. The Cynopsis family of products includes the media industry's most-read daily, Cynopsis, plus sister dailies Cynopsis Digital and Cynopsis Sports; weekly eSports, the Cynopsis Jobs board and special reports. Serving TV, agency and brand professionals, Cynopsis Media produces conferences, webinars, and awards programs that are second to none. Find out more at cynopsis.com.
###