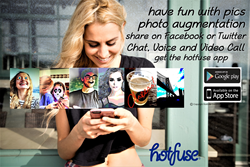 Hotfuse offers users group chat, voice and video call
(PRWEB) June 09, 2017
Hotfuse Social Network App introduces private group chat, attach photos, videos and other media to make it fun to build a cohesive community of friends, fans and colleagues. Phase I now released and phase II currently in development with advanced features will be released by end of July 2017.
In addition, Hotfuse releases integrated voice and call features. Now family, friends and work colleagues can connect easily on Hotfuse. Phase II with additional features will be released by end of July 2017.
Furthermore, Hotfuse App has developed advanced algorithm to recognize face and apply facial masks, goggles, hats, animation and unique facial filters in addition to applying art filters, infinitely edit it in many ways to create a unique image, a unique augmented reality. With Hotfuse, taking a picture is only the first step, now you can deck it out with your own personality.
You can now also highlight a section of the photo you took with your finger on the screen and apply the Hotfuse algorithm to instantly turn that selection in to a sticker like an emoji of your choice and cut and paste as many times in any way you wish anywhere on the photo.
Hotfuse gets straight to the heart of sharing and communicating creatively and promises a new, exciting and compelling experience with additional features as events calendar take a poll with your friends to know what they are thinking. What is different about Hotfuse is that the app is designed from the ground up for the mobile digital devices and is more than just a social media company
Hotfuse is available in 14 different languages, and the app is ready for you to install for both Android and iPhone or access via web.
Pricing and Availability: The Hotfuse App is currently available for free for the first six months and available worldwide through iTunes App Store in Photo & Video category. Hotfuse is also available for Android in the GooglePlay store under Social category.
About Hotfuse
Hotfuse Communications LLC is a social app development company for the mobile devices and is committed to bringing together the fragmented elements of the personal and business communication elements all on to one platform to make sharing easy, creative and fun for all demographic groups.