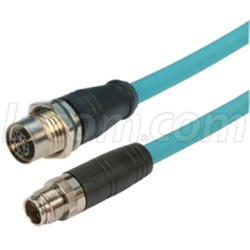 "With the addition of these two new M12 cable series, we have expanded our M12 cable offering to address almost every type of industrial M12 connectivity application," said Dustin Guttadauro, Product Manager
NORTH ANDOVER, Mass. (PRWEB) June 15, 2017
L-com Global Connectivity, a preferred manufacturer of wired and wireless connectivity products, announced today that it has launched a new series of Category 6a-rated, M12 cable assemblies with X-coded connectors.
L-com's premium family of M12 cables now includes X-coded assemblies rated for 10Gig speeds. These assemblies were designed to address demanding industrial connectivity requirements. Built with high-flex, outdoor CMX-rated, double shielded, FR-TPE cable and using IP67 M12 connectors, these M12 assemblies can be used in harsh environments where exposure to oil, UV rays and weld splatter is commonplace.
This new series includes the TRG626-T6T family which feature M12 male to M12 female panel mount connectors and the TRG608-T6T family that employs M12 male to M12 female connectors.
"With the addition of these two new M12 cable series, we have expanded our M12 cable offering to address almost every type of industrial M12 connectivity application. Along with our M12 to RJ45 and M12 to GigE RJ45 series cables, we now offer our customers a complete line of M12 cable solutions," said Dustin Guttadauro, Product Manager.
L-com's new M12 cable assemblies are in stock and can be shipped immediately.
For more information about this release, please contact:
Peter McNeil
L-com Global Connectivity
17792 Fitch
Irvine, CA
978-682-6936 x1174
About L-com Global Connectivity:
L-com Global Connectivity, a leading manufacturer of wired and wireless connectivity products, offers a wide range of solutions and unrivaled customer service for the electronics and data communications industries. The company's product portfolio includes cable assemblies, connectors, adapters, antennas, enclosures, surge protectors and more. L-com is headquartered in North Andover, Mass., is ISO 9001: 2008 certified and many of its products are UL® recognized. L-com is an Infinite Electronics company.