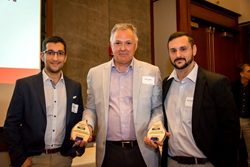 There is innovation, talent and many other positive aspects in Latin America that US companies really need to find out.
San Francisco, California (PRWEB) June 13, 2017
On May 24th and 25th, several companies from Latin America and the US got together at the Google Quad in San Francisco for the conference Nexus 2017. During the annual event organized by Nearshore Americas, the Illuminate Awards took place. It was an important moment for the software development boutique UruIT, whose team left the event with the most important award.
The Illuminate Awards aims to congratulate and recognize the companies and startups that are boosting the software outsourcing industry within the region. For Marcelo Lopez, UruIT's CEO, receiving this award was a unique milestone after 10 years of hard work. "All these years we have dedicated ourselves to highlight Latin America's advantages for US companies looking for software development providers."
During Nexus 2017, more than 150 executives embarked on a great journey of learning and networking at the famous Silicon Valley. It was the 7th edition of Nexus, a well-known conference for those willing to discuss trends and opportunities within the software outsourcing industry. This year, the event had a special focus on the disruption of Latin American entrepreneurship.
About UruIT: UruIT is a software development boutique that supports the digital transformation of US companies and startups. It has Development Centers in Uruguay and Colombia and offices in the US. During the last 10 years, UruIT has developed solutions for clients such as Coca-Cola, KIA, PwC and Microsoft. Its team is expert in the outsourcing development model of web and mobile applications.