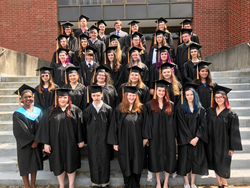 The entire MCA staff is extremely proud of our graduates, who are an exceptional group of thoughtful, determined individuals
South Portland, ME (PRWEB) June 09, 2017
Maine Connections Academy (MCA), Maine's first tuition-free virtual charter school for students in grades 7-12, hosted an in-person commencement ceremony to honor its third class of graduating seniors on Thursday, June 8, at the Augusta Civic Center. Paralympic athlete and local inspiration, Joshua Kennison of South Paris, Maine, served as the keynote speaker for the ceremony, imparting wisdom about the importance of overcoming obstacles, and never giving up on dreams. The ceremony included heartfelt speeches from three graduating students, who shared remarks about their own unique experiences with the online school and their hopes for the future.
MCA's third graduating class is comprised of 45 students, up from just six in its first year of graduating students in 2015. These rising numbers are a testament to MCA's personalized curriculum and an increased desire among Maine families for online learning programs. Three graduates were recognized with awards from the Maine Principal's Association, which honors students who have achieved academic excellence and embody exceptional citizenship.
Recipients included:

Anthony Moore, of North Yarmouth
Julianna Saucier, of Sanford
Leela Stockley, of Chester
Each of these three award recipients also served as student speakers, sharing their unique stories with the crowd, and expressing their gratitude for Maine Connections Academy.
Moore relayed his experiences with bullying and the lack of academic challenge he experienced prior to enrolling in online school. After joining MCA, he began to thrive: "MCA was the best choice for me, because I was able to be me."
Saucier shared her struggles with severe migraines, which made attendance at her traditional school extremely difficult. After enrolling at MCA, she was able to sign up for dual enrollment courses through the University of Maine at Fort Kent, where she completed college classes, all while earning her high school diploma. She attributed much of her success to her teachers: "I have always received extreme support from all of the teachers and staff at Maine Connections Academy."
Stockley spoke of how much she has changed since joining MCA, and expressed her appreciation for the connections that she made along the way: "Maine Connections Academy has definitely lived up to its namesake, igniting connections within me and within all of its students to be able to create a brighter future."
The keynote address was delivered by local Paralympic athlete, Joshua Kennison, who shared his story of overcoming great odds to compete and excel in the sport of Track and Field. Born with no hands, feet, or tongue, Kennison described how the support of family and friends helped him learn to speak, walk, and eventually run, breaking the T-43 World Long Jump Record in 2012. Kennison encouraged students to always keep a positive mindset throughout their lives: "As long as you have a positive mindset, you can walk out those doors and do anything you want. So just go out there, have fun and help people."
Kennison's speech and the students' remarks were streamed live for those unable to attend the ceremony in-person, and are available for viewing on the MCA Facebook page.
"The entire MCA staff is extremely proud of our graduates, who are an exceptional group of thoughtful, determined individuals," said MCA Principal Doug Bourget. "They have all demonstrated perseverance and self-motivation to get to this point, which will serve them well no matter what career paths they choose to pursue from here. I look forward to watching them take the skills they have learned with us, and apply them towards all of their future endeavors."
MCA offers students an award-winning online curriculum and the opportunity to work closely with certified teachers using detailed daily lesson plans that can be personalized to meet individual student needs. Enrollment for the 2017-18 school year is open—the school has an enrollment cap of 429 students for grades 7-12.
For more information about MCA, please call (207) 805-3254, or visit http://www.MaineConnectionsAcademy.com.
About Maine Connections Academy:
Maine Connections Academy (MCA) is Maine's first statewide, tuition-free public charter school for students in grades 7-12. MCA provides students with the flexibility to learn from anywhere there is an Internet connection. The combination of certified Maine-based teachers, an award-winning curriculum, engaging electives, technology tools, and social experiences, provides a supportive learning opportunity for students who want a personalized approach to education. MCA is authorized by the Maine Charter School Commission and governed by non-profit local Governing Board. Educational programs and other services are provided by Connections Academy, a national leader in online learning that has supported schools with high-quality, online learning for more than a decade. The school's teaching center is based at 75 John Roberts Road in South Portland. For more information, call 800-382-6010 or visit http://www.MaineConnectionsAcademy.com.