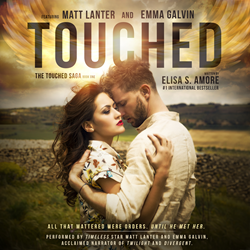 "Elisa S. Amore is one of the few phenomena in self-publishing." - VANITY FAIR
(PRWEB) June 12, 2017
THE NUMBER ONE BEST-SELLING SERIES EVERYONE'S TALKING ABOUT.
After the incredible success of the Touched series last year, Timeless star Matt Lanter has become the voice of the main character that he himself inspired. The acclaimed narrator of Twilight and Divergent, Emma Galvin, will narrate the female POV.
A N° 1 bestseller with thousands of copies sold every week. Over 40 MILLION pages read and 2000+ five-star reviews on Amazon and Goodreads. #1 in Best Paranormal Romance/Urban Fantasy on Goodreads.
Top 100 of over 28,000 in Books that Should be Made into Movies on Goodreads
TOUCHED – The Caress of Fate is the story of an Angel of Death who falls in love with the girl he is ordered to kill, hailed by critics as 'a young adult version of Meet Joe Black and City of Angels.'
Soon after it was self-published in the US market in 2016, it climbed the Amazon charts to become a #1 bestseller that remained at the top of the rankings for months in over ten categories, hitting the top 100 in paid Kindle books across Amazon and earning its author a six-figure income in just the last year. It is a four-book saga centered on the Subterraneans—angels tasked with killing mortals whose time on Earth has come to an end and helping their souls pass on to Heaven—and the Witches, their worst enemies, who want to bring those Souls to their kingdom, Hell.
The saga is now complete and all four books have become enduring bestsellers on Amazon with over 2000 five-star reviews.
With her successful series about life and death, Heaven and Hell, Elisa S. Amore has built a loyal fanbase on social media that numbers upwards of 150,000 fans and continues to grow. She has quickly become a favorite author for thousands of readers in the US. She is currently working on a spin-off series, a trilogy set entirely in Hell that follows the misadventures of two Damned Souls that fight for survival in order to protect each other in a world ruled by evil.
CONTACT INFO:
http://www.elisasamore.com
elisa.amore(at)touchedsaga.com