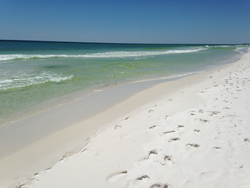 "If you come here as a baseball fan, you'll leave as a fan of the Gulf Coast too."
Destin, FL & Orange Beach, AL (PRWEB) June 09, 2017
This summer, Southern Rentals & Real Estate welcomes the United States Specialty Sports Association (USSSA) as it presents the Global World Series of Baseball in Gulf Shores and Orange Beach, Alabama, and Destin, Florida. Qualified players, ages 7-14, will compete in Gulf Shores and Orange Beach, as 9-13 year-olds compete in Destin for the World Series title.
Hundreds of teams from across the country will descend on Orange Beach, Gulf Shores, and Destin from late June to mid-July. The Alabama tournament takes place in a four-part series from June 20-24, June 27-July 1, July 4-8, and July 11-15. Meanwhile, the Destin tournament is a three-part series from June 21-24, June 28-July 1, and July 12-15.
Each team has a six game guarantee, comprised of four games of pool play and two games of bracket play. Three seeded brackets will then go head-to-head in double elimination rounds. The last team standing in each age division will be awarded a championship trophy, and players will receive individual trophies along with the coveted World Series championship rings.
Regarding the tournament, USSSA Division Director Scott Mobley said, "This is about the teams, about playing and having a good time."
Southern invites the USSSA coaches, players, and their families to have a good time on the Gulf Coast, utilizing a vacation home or condo as home base. "When you're in a place like Destin, Gulf Shores, or Orange Beach, not only do you get to enjoy the beach, you'll find much more to explore. From historical sites to amusement parks to food trucks— let's just say, if you come here as a baseball fan, you'll leave as a fan of the Gulf Coast too," Southern's General Manager Chad Blankenship said.
Gulf Shores, Orange Beach, and Destin are highly sought-after vacation destinations, renowned for their beaches and family attractions. In fact, TripAdvisor ranked Destin and Orange Beach as two of the top U.S. "destinations on the rise." Both areas boast sugar white sand and emerald water, in addition to premier shopping and dining options.
Southern is proud to help families make the most of their visit by matching them with the ideal vacation rental in Northwest Florida or Coastal Alabama. With an array of vacation homes and condos from Gulf Shores, Alabama, to Panama City Beach, Florida, Southern accommodates groups of all sizes.
Established in 1995, Southern Rentals and Real Estate is one of the most sought-after providers of rentals and real estate in Northwest Florida and Coastal Alabama. Locally owned and operated by two sets of brothers, Brad and Mike Shoults and Kevin and Kerry Veach, and Susan Carleton, Southern represents nearly 1,400 vacation rentals, 1,000 long term rentals, countless real estate opportunities and more than 40 associations along the Gulf Coast. The Southern family of companies includes Southern Vacation Rentals, Southern Residential Leasing, Southern Real Estate Sales, RE/MAX Southern and Southern Association Management. For more information, visit GoSouthern.com.