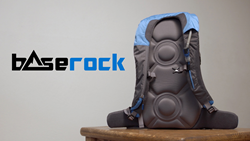 "It's like sound hugging you"
San Luis Obispo, CA (PRWEB) June 14, 2017
Check Out Baserock's Viral Video Here
Baserock, Inc, creators of the Baserock, just launched their first Kickstarter crowdfunding campaign to raise $15,000 to bring the Baserock, a versatile hydration backpack that allows users to physically feel music by vibrating bass frequencies throughout the body to market. With a 15,000+ music-loving community behind Baserock they tripled their funding goal within 6 hours of launch.
"We designed the Baserock Backpack to optimize our physical experience of bass frequencies at music festivals," said Jared Becker, Baserock Co-Founder and CEO. "We've been encouraged by the feedback we've received from our early testers who found many ways to use the product - on hikes, at work, on the slopes, walking downtown, mountain biking, you name it."
The state-of-the-art backpack is equipped with a microphone input for use at a live show, as well as an auxiliary input, so it can be used with a phone/computer and headphones/speakers. It runs on an eight-hour rechargeable battery and has an easily accessible user interface on the shoulder strap of the backpack.
Baserock is designed for the active lifestyle, complete with a 2-Liter hydration reservoir, two large storage pockets and five secure zipper pockets organized in a compact 19-inch water resistant backpack. Baserock is ready for a three-day music festival, shredding some powder on the slopes, a trek across town, and everything in between.
Key Points:
-Kickstarter Campaign: ttps://http://www.kickstarter.com/projects/baserock/baserock-the-immersive-bass-frequency-hydration-ba
-Graphics, GIFS, Videos: https://goo.gl/jCYf27
-Campaign length: June 13th - July 27th
-Shipping starts February 2018
-Price starts at $199 (50% off expected retail of $399) including free US shipping
-Works with both live music or an auxiliary input
Tech Specs:
-Total weight unfilled 4 lb 1.6 oz
-8-Hour Rechargeable Li-Ion Battery
-30 Watts of Bass-Thumping Power
-Frequency Response Range from 15Hz - 200Hz
-2-Liter BPA Free Hydration Reservoir
-11 Liters of Storage Space
-Five Secure Zipper Pockets
-Ripstop Nylon Water Resistant Fabric
-Insert Size: 10 x 5.5 x 1.5 in (HxWxD)
-Control Module Size: 2.3 x 1.8 x 1.0 in (HxWxD)
-Bag Size: 20 x 8 x 4.5 in (HxWxD)
About:
Baserock was founded on the central coast of California in February 2016 and is owned by Jared Becker and Gannon Daynes. Baserock was created by two music lovers who found an awesome way to improve their experience at music festivals. After showing their prototypes around festivals and speaking with hundreds of other music lovers, Becker and Daynes realized that this technology was so much bigger than just enhancing the live music experience and was applicable to every aspect of a music lover's life.