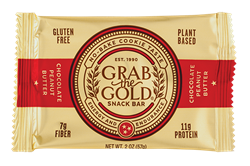 "Grab The Gold is a delicious chocolate peanut butter snack bar that provides Energy You Can Depend On with a scrumptious combination of organic, non-GMO, and gluten-free ingredients." ~ CEO Danielle Ontiveros
Nashville, Tennessee (PRWEB) June 13, 2017
Consuming over one million snack bars annually, Tennessee residents have given a "thumbs up" to Grab The Gold and spurred tremendous growth for the Nashville company. Sales continue to trend upward throughout the southeast as well as additional retail sales outlets across the US.
Grab The Gold is pleased to announce a fresh new look that is simple and bold, refining both its packaging and website for the crowd-pleasing snack bar. After more than 25 years in business, Danielle Ontiveros – founder and CEO – continues to create Grab The Gold in small hand-crafted batches. Gluten-free and full of protein, these irresistible snack bars use plant-based ingredients to energize consumers and satisfy "snack attacks."
Ontiveros shares, "I am excited to launch our updated logo, wrappers and packaging along with the new website design. This golden transformation focuses on clear messaging that promotes our simple and clean ingredients that you can pronounce. Grab The Gold is a delicious chocolate peanut butter snack bar that provides Energy You Can Depend On with a scrumptious combination of organic, non-GMO, and gluten-free ingredients. People crave the taste and rely on Grab The Gold for instant and sustained energy during the day."
The updated Grab The Gold website has a clean, bold look with meaningful graphics that connect with people looking for healthy alternatives. Customers also find the website easy to navigate with straightforward messaging about ingredients, as well as a Store Locator for quickly finding the snack bars in their area. Online ordering is also offered and allows customers to buy Grab The Gold as a one-time purchase, or subscribe and save by signing up for customized recurring shipment through the Gold Club Membership.
While the golden transformation is a significant change for the company after 27 years, the iconic red and gold wrapper is still quite recognizable. The new design is easy to read and clearly states the nutritional benefits with highly visible allergen-friendly icons that are important to health-conscious consumers. Grab The Gold customers can be confident that their favorite plant-based snack bar will continue to deliver its same irresistible taste and balanced energy.
Founded in 1990 by Danielle Ontiveros, Grab The Gold snack bars were originally developed in her mother's kitchen. This wholesome recipe that grew from humble beginnings is the tradition that continues today. For over 25 years, Grab The Gold has delivered hand-crafted simple, high-quality ingredients in small batches to create a snack bar so delicious that millions are consumed every year. Sold at select Kroger, Walgreens, Smoothie King and I Love Juice Bars, people often say that Grab The Gold is quite possibly "the best snack bar on earth!" Combining gratitude with good taste, each purchase of Grab The Gold helps to provide meals for Second Harvest Food Bank. Customers feel good knowing that when they buy – it helps those in need. Visit the website at http://www.grabthegold.com.