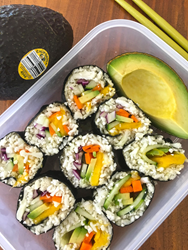 Avocados are basically the most useful fruit on the planet
Los Angeles, CA (PRWEB) June 11, 2017
Today, Meal Prep on Fleek, a simple, affordable, and healthy recipe website for a new generation, released the most amazing list of the best avocado recipes on the internet. From avocado + mango sushi to healthy avocado hummus, crispy baked avocado fries and so much more! Meal Prep on Fleek was hesitant to put this out in fear that people will (literally) try to eat their phone or computer monitor. Do not attempt!
Not only are some of the best tasting avocado recipes listed, but also the right way to tell if an avocado is ripe (not that stupid button trick), plus how to keep avocados looking fresh for days.
Nick, co-founder of Meal Prep on Fleek stated, "Avocados are basically the most useful fruit on the planet. We don't want to screw them up by popping the button off the top of them when you're at the grocery store just to see if they're ripe."
After compiling this list, it is Meal Prep on Fleek's hope that people will:

Never pick the top button off an avocado (unless already purchased)
Make one of these recipes and share photos at #MealPrepOnFleek
Think about using avocado as a substitute for processed oil products
One easy step to eating better is swapping things like mayonnaise, sour cream, and butter for avocado.