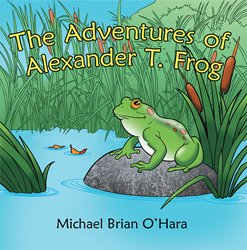 WILLIAMSBURG, Va. (PRWEB) June 12, 2017
Author Michael Brian O'Hara, a grandfather of eight, loves telling stories to children. As a former elementary school teacher and senior business executive, he utilized his expertise to promote positivity and self-acceptance in his new children's book, "The Adventures of Alexander T. Frog."
The story follows Alexander T. Frog as he questions why he does not have the same capabilities as his friends. He wants to float like a butterfly, fly like a bird, swim under water like a fish, hop like a bunny rabbit, and run fast like a horse. By asking his animal friends for help to accomplish these things, they help him discover he is perfect just the way he is.
"It is very important to help children feel better about themselves especially with the bullying epidemic that has caused such unnecessary grief," said O'Hara. "My book teaches children that we all have our own unique talents which make us just as special as someone else with different traits."
They key message of this book is especially important during the delicate time of learning and growing where children can feel overwhelmed and invisible. A colorful, animal friendly, and educational picture book, "The Adventures of Alexander T. Frog" communicates to children the importance of appreciating their own talents and loving themselves for who they are.
"The Adventures of Alexander T. Frog"
By Michael Brian O'Hara
ISBN: 978-1-4808-4458-2
Available at Amazon, Barnes & Noble and Archway Publishing
About the author
Michael Brian O'Hara is a retired corporate senior business executive who has more than 40 years of experience in the food, agricultural, and energy industries. O'Hara has trained over 4,000 executives in public speaking and crisis communications, has written many speeches for executives, and numerous articles that have appeared in business publications. A former child model and radio announcer, he also taught elementary school early in his career. O'Hara and his wife are the proud parents and grandparents of three children and eight grandchildren and reside in Williamsburg, Virginia.
For Review Copies & General Inquiries Contact:
LAVIDGE – Phoenix
Lauren Dickerson
ldickerson(at)lavidge(dot)com
480-998-2600