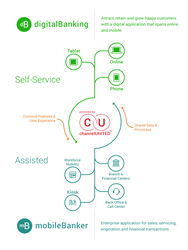 Customers do not think in channels, neither should their Bank. - Tracey Dunlap, Director of Digital
Charlotte, NC (PRWEB) June 13, 2017
Zenmonics, a pioneer of digital transformation for financial services, released new research today focusing on delivering an omnichannel customer experience.
The report, published by Celent, advocates the migration towards a single, omnichannel customer experience platform that spans self-service and assisted access points. This report also outlines a rationale and shows how many banks are already moving in that direction.
Financial institutions are at an inflection point – a reset moment triggered by consumers' broad and rapid adoption of digital devices and their desire to no longer think in channels. Consumers and even your bank associates, make less of a distinction, if any, between channels. Instead, large and growing segments of consumers expect an integrated engagement experience with their bank, one that bridges the digital and physical domains. Delivering on this expectation is the core challenge of omnichannel banking.
Zenmonics believes their omnichannel platform, channelUNITED® directly aligns to the path of a single digital transformation platform and the industry's pursuit of a customer-centric platform.
channelUNITED® is the leading software platform specifically built to power both self-service and assisted channels on a single, unified technology stack, allowing both customer and associates to engage in seamless sales, servicing, origination and financial transactions from any access point.
channelUNITED® platform includes Consumer (online/mobile), Unified Account Origination, Banker Sales & Service, Banker Teller, and Kiosk.
To download this paper, please visit Zenmonics.com