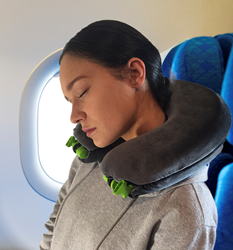 The landscape is changing for counterfeiters, and we're now engaged with Red Points to bring these companies to account and have these fake advertisements pulled down from major websites.
New York City (PRWEB) June 12, 2017
The Australian parent company for FaceCradle USA has hired Red Points to scan the internet for copyright infringements – specifically to target counterfeiters of its popular FaceCradle travel pillow being sold on the web.
Red Points is an international firm based in Barcelona, Spain that uses proprietary 'stealth' software and shuts down companies and individuals selling counterfeit products.
"The landscape is changing for counterfeiters," said David L. Scrimshaw, the creator of the FaceCradle Travel Pillow and managing director of Hairy Turtle Pty Ltd – the Australian parent company of FaceCradle USA. "We're now engaged with Red Points to bring these companies to account and have these fake advertisements pulled down from major websites. Red Points technology is going to help us put a stop to deceptive practices and the theft of our intellectual property."
Red Points has received significant recognition for the software it perfected, which scans the internet for "infections" via a system it developed that sends out early warnings to counterfeit sites. By working with a company's legal counsel in a seamless way, Red Points also interacts with major online retailers to log-in to the retailers' sites and remove the bogus sites and "infections" themselves. Supported by in-house patent attorneys, Red Points can also take down the counterfeiters through prosecution.
"On behalf of manufacturers like ourselves, we hope to set a major precedent with the first company that does not comply with our Cease and Desist request," Scrimshaw said. "In China, if you are found guilty of breaking intellectual property (IP law), it can result in jail-time because it's a criminal offense. In Western countries, it's a civil offense that can merit heavy financial penalties and the destruction of any counterfeit products. It can also result in significant compensation to the creator for profits lost and for any damage to the inventor's brand equity."
Using its in-house take down tools, CEO Laura Urquizu states that Red Points can have a piece of copyrighted content removed in as little as two hours after detection. Urquizu adds that Red Points currently deletes more than 52,000 incidents of illegal content every month for its clients.
"We focused from the beginning on having an excellent system of removal," she adds. "We previously worked in this capacity with large companies and brands including Next and Conde Nast International, along with athletes, film stars and music artists. While we still do this, we're now working with any size company dealing with the problem of counterfeiting, and we look forward to helping Mr. Scrimshaw and his FaceCradle Brand."
The FaceCradle travel pillow, developed by Scrimshaw and fellow Australian entrepreneur Roz Ruwhiu, made headlines last year when it collected more than $1.1 million (USD) in presales on Kickstarter to become the most successful travel product in the history of the crowdfunding website. Now in full production, Scrimshaw opened a North American headquarters office in New York City, FaceCradle USA, in February to provide oversight and brand management to the North American audience.
Unlike other travel pillows on the market, FaceCradle is designed for the way people actually sleep, with their head in a horizontal position. FaceCradle presents five sleep modes for travelers. Each provides multiple options for comfort – including a deep-sleep mode that simulates the natural horizontal sleeping position. This presents a face down position (as if in a massage chair) even while the traveler is seated in a vertical, economy-class seat.
To find out more about the most popular travel pillow on the market today and to order, visit http://www.facecradle.me.
About FaceCradle USA
FaceCradle USA was founded in 2017, after the success of the product on Kickstarter in the fall of 2016 – when the travel pillow raised $1.135 million ($1,479,231 AUD) to become the most-funded travel accessory in the website's history. The parent company is based in Melbourne, Australia. Two of the country's seasoned entrepreneurs, David Scrimshaw and Roz Ruwhiu, worked together to create the FaceCradle brand, founding the company in 2015. Scrimshaw is also the founder of one of Australia's most innovative companies (per Thompson Reuters), having launched the market-leading Power Tool Brand, Ozito. He also designed, developed and marketed more than 30 consumer products globally. Ruwhiu serves as the head of TV production for a leading advertising agency and has been behind the production of several award-winning commercials. The two combined their expertise to create FaceCradle – to help all travelers get a good night's sleep. For more information, visit http://www.facecradle.me.
About Red Points
Red Points is a global leader in brand and copyright protection, combining proprietary technology with unmatched legal, technical, and analytical expertise to defend international brands and online content providers against counterfeiting and digital piracy. Red Points is the preferred brand protection partner for prestigious global brands and content owners in the sporting, entertainment, fashion, editorial, design and luxury industries, providing unique services across the entire digital spectrum. The company has been devoted to protecting creativity, innovation, and design since its founding in 2011. To learn more about Red Points, please visit http://www.redpoints.com.