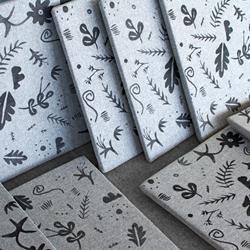 These designer sound panels will add charm to any space requiring acoustical control.
Minneapolis, MN (PRWEB) June 12, 2017
Versare Solutions is proud to announce a new addition to its acoustic panel family: Sound Stones (Art) custom printed acoustic panels. Sold in packages of four, these screen-printed, decorative acoustic panels are handmade to customer specifications in Versare's Minneapolis design labs.
These silk-screened designer versions of Versare's Sound Stones (Wall) feature the same premium construction. An outer layer of acoustical fabric encloses 2000g density acoustical nonwoven polyester to absorb sound, while a rigid board honeycomb traps sound at the core. Customers can choose from 20 colors and four modern patterns: dash, evocative of a hand-drawn hash mark design; line, which resembles an equalizer on a stereo; organic, a pattern of leaves and flowers; and quilt, a zigzag pattern. Each pack of 4 can be arranged in any fashion to match office space or room decor. The hand-screened patterns will add lively style to any office, church, school, or home requiring acoustical control.
Sound Stones are a convenient way to dampen sound in a variety of settings. They help lessen the echo effect and improve acoustics in home studios and music rooms. In settings full of chatter like restaurants, offices, classrooms, and co-working spaces, they help keep the noise from reverberating and becoming excessive. In larger settings, like auditoriums or theaters, multiple sets of the panels can be used.
The new customizable Sound Stones are the latest in a line of sound-dampening acoustic panels, including Sound Stones (Ceiling), Sound Stones (Wall), and the Monolith.