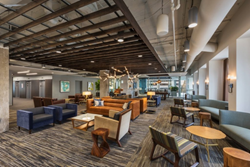 This is more than just a new location for us - it's an investment in our future.
Chicago, IL (PRWEB) June 12, 2017
Chicago-based technology company Liquidus Marketing has relocated to 200 W. Jackson Blvd. in Chicago's Loop. The recent acquisition of Cofactor expanded the headcount of the digital marketing solutions provider and created the need for a larger, more collaborative workspace. The new space spans a combined 28,000 sq/ft across two floors and will facilitate the teams' integration under the Liquidus name.
CEO, Todd Holmes, explains the significance of the move: "We've been looking forward to this day for the last 6 months. I'm so proud of what we've built as a company, and bringing this group of intelligent, innovative minds together under one roof will accelerate our ability to make great things happen for our customers." He continued, "This is more than just a new location for us - it's an investment in our future. It will help us build momentum for continued growth, and give us the space we need to attract top talent in Chicago's competitive tech market."
In December 2016, Liquidus acquired Cofactor from TEGNA, combining two robust product suites and creating a unique managed service that helps advertisers drive awareness, engagement and sales. Liquidus continues to innovate and expand into new verticals as the demand for precisely-targeted, personally-relevant digital advertising grows.
About Liquidus Marketing: With over 15 years experience in digital marketing and technology, Liquidus provides advertisers with cutting-edge products and cost-effective solutions to drive sales across a plethora of verticals. Liquidus' display advertising platform combines programmatic media and its proprietary ad technology, Bannerlink, with a team of seasoned digital media buyers that have access to the most cost-effective means to reach in-market consumers. Liquidus acquired Cofactor from TEGNA in December 2016 inheriting data distribution capabilities promoting localization and personalization.