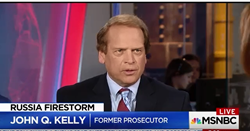 GREENWICH, CT (PRWEB) June 12, 2017
John Q. Kelly, Esq. joined host Stephanie Ruhle on MSNBC to discuss the wisdom of the White House decision to retain outside counsel and set up a "war room" in the White House to combat and contain the widening Trump-Russia probe.
Mr. Kelly also opined on General Flynn's decision to assert the Fifth Amendment and how that may have put him on a collision course with former FBI Director Robert Mueller and the Department of Justice in the months ahead.
Watch the video at: https://youtu.be/q1BbUOr-KU4
About John Q. Kelly
John Q. Kelly has appeared as both a featured guest and/or legal commentator frequently on all major network and cable news shows (NBC, ABC, CBS, CNN, Fox News) and has been profiled/referenced in a multitude of documentaries and publications, including Time Magazine, Newsweek Magazine, People Magazine, Worth Magazine, Greenwich Magazine, New York Magazine, New York Times, New York Post and New York Daily News.
About Ivey, Barnum & O'Mara, LLC
Mr. Kelly is a partner at Ivey, Barnum & O'Mara, LLC, a general practice law firm which was established in Greenwich, CT in 1950. It is the largest Greenwich-based law firm, with more than thirty attorneys, and additional offices in New Canaan, CT and New York City.
Visit our websites at http://www.ibopersonalinjurylawyers.com and http://www.ibolaw.com.