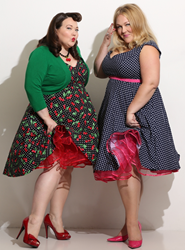 "67% of American women are a size 14 or above. We're here to help the media, entertainment and fashion catch the eff UP!"
Hollywood, CA (PRWEB) June 11, 2017
67% of American women are a size 14 or above. The moment has arrived for media, entertainment and fashion to catch up with content for this under-served majority. Plus This!, the multimedia brand spearheaded by actor/influencers Kathy Deitch and Eva Tingley, features pop-culture, fashion, and current debates regarding food and health, the societal negativity and stereotypes that surround women who dare to take up a little bit of space. http://www.PlusThisShow.com
Plus This! shares body positive news and entertainment and delves into potentially sensitive issues regarding the 67 percent of women who are plus size and the media's perception of them in a refreshingly open, funny format, making even the most taboo subjects informative and entertaining. "In our own lives, we have no-holds-barred conversations with each other regarding weight and body image. I'm tired of hearing about things from a formal scripted, clinical, or textbook perspective. Open conversation takes the stigma out of these issues and makes everyone feel a little more at ease," says Tingley. Deitch agrees, "Having to be candid and off-the-cuff on Plus This! makes me face my own struggles with radical self-acceptance head on; the self-confidence I've gained in just a short time on the air has been extraordinary and a lovely side-effect of hosting. Body positivity is a fast-growing movement and we enjoy keeping our audience ahead of the curve." Plus This! Show Clip

The pair will now have the capability to broadcast across several platforms simultaneously including Facebook Live and YouTube Live, providing an audio and visual experience that fans and advertisers alike find energetic and interactive.
Past Guests include star of FOX's The Mick, Carla Jimenez, Food Network Star contestant Rosa Graziano, celebrity stylist Timothy Snell, Little Women of L.A. cast member Christy McGinity Gibel and Lady J from Amazon's Transparent.
For all inquiries, including sponsorship and advertising possibilities, please contact directly or visit the duo's Instagram.
KATHY DEITCH grew up in the suburbs of Philadelphia and moved to New York to attend Wagner College. Kathy made her Broadway debut in the original cast of FOOTLOOSE and later created the role of Shen Shen in the smash Broadway hit WICKED. She made her LA acting debut at the Hollywood Bowl in RENT directed by Neil Patrick Harris. Other credits include: SILENCE! THE MUSICAL (LA Weekly Award), AMERICAN HORROR STORY: FREAK SHOW , the thriller LOFT, opposite Modern Family's Eric Stonestreet and MAGIC MIKE XXL with Matt Bomer. Her blog COOL GIRL IS DEAD has been presented as a solo-performance reading in both New York and Los Angeles. Kathy lives in Los Angeles.
EVA TINGLEY grew up in the Santa Clarita Valley area of Los Angeles. Born to deaf parents, Eva and her sisters felt as if they had their own secret language and were the first "famous family" in their neighborhood because everyone was fascinated at how they talked with their hands. Eva enjoyed working on FOX's RAKE with Annie Mumolo and Greg Kinnear, ABC's SCANDAL with Kerry Washington and NBC's COMMUNITY with Joel McHale and Chevy Chase. Eva lives in Los Angeles with her husband, Peter, and cat, Monkey.