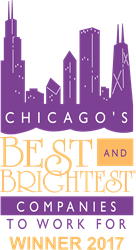 Our employees are exceptional people – it's that simple.
Chicago, IL (PRWEB) June 12, 2017
YJT Solutions has been named a 2017 Chicago 101 Best and Brightest Companies to Work For®, an award that identifies and honors organizations displaying the most innovative and thoughtful human resource practices and employee enrichment programs.
The Chicago Best and Brightest Companies to Work For® award reflects YJT Solutions' commitment and dedication to hiring only the most qualified candidates, as well as fostering a work environment that centers around excellence and continued improvement.
YJT's outstanding benefits, career development program, track record for internal promotion and performance incentives were contributing factors that resulted in recognition by the Best and Brightest. YJT also keeps employees engaged through employee development programs, including weekly fun, informal, after-hours training get-togethers on employee-chosen topics, and quarterly 'Lunches with Leadership,' where each employee's voice is heard and any idea or issue can be raised. To foster the close collaboration and friendships that naturally develop between co-workers, YJT Solutions plans company-wide outings every three months, provides office-sponsored lunches every Monday and holds a weekly happy hour, 'Fridays @ 4.'
"YJT's recognition as one of Chicago's 2017 Best and Brightest Companies to Work For reaffirms a belief that I've held about this firm for a long time. Our employees are exceptional people – it's that simple. They are amazingly dedicated to serving our clients, to doing their best each day, and to continuing to learn, grow and share ideas," said Linda Maclachlan, Founder and CEO of YJT Solutions. "Our people are truly what make us a successful and fast-growing company, and we are excited to continue to transform YJT into the best place to have a technology infrastructure career in Chicago."
Companies are selected for The Best and Brightest Companies to Work For® through an evaluation by an independent research firm using a variety of key metrics. The evaluation categories include Compensation, Benefits and Employee Solutions; Employee Enrichment, Engagement and Retention; Employee Education and Development; Recruitment, Selection and Orientation; Employee Achievement and Recognition; Communication and Shared Vision; Diversity and Inclusion; Work-Life Balance; Community Initiatives and Strategic Company Performance.
"Profitability and stability is essential for businesses in today's economic climate. Companies that recognize that their employees are the key to their success achieve staying power. Our 2017 winners create their human resource standards to ensure employee satisfaction and they set standards for every business to aspire toward," said Jennifer Kluge, President of NABR. "We are proud to honor this year's winners."
About YJT Solutions
YJT Solutions is a top-tier provider of IT managed services to mid-market businesses in Chicago. For the past 17 years, YJT has tackled unique and complicated IT environments, while working with clients as their technology partner and guiding them towards IT operational excellence and the ability to focus on innovation and scale. Based in the Chicago Loop, the heart and soul of YJT Solutions is their local team of skilled engineers. Delivering 24/7 personalized support to clients, this team monitors and manages client networks and infrastructure, 365 days-a-year, and has earned a stellar customer satisfaction rating of 4.95 out of 5.
About the Best and Brightest Programs
The Best and Brightest Companies to Work For® is a program of the National Association For Business Resources that provides the business community with the opportunity to gain recognition, showcase their best practices, and demonstrate why they are an ideal place for employees to work. This national program celebrates those companies that are making better business, creating richer lives and building a stronger community as a whole. It is presented annually in several markets including Atlanta, Boston, Chicago, Dallas, Detroit, Grand Rapids, Houston, Milwaukee, San Diego, San Francisco Bay Area, and Nationally.