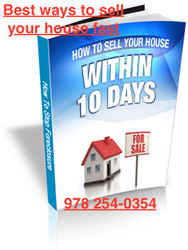 (PRWEB) June 16, 2017
Real Property Liquidators, LLC, a multi-service real estate investment company based in Massachusetts, announced that a new, free report is available on their website. Readers can download "How to Sell Your House Within 10 Days" by going to http://www.realpropertyliquidators.com/ and filling out some basic information. After that, they will be taken to a page where they can download the report.
"How To Sell Your House Within 10 Days" includes several tips for homeowners looking to sell their properties quickly. These include staging advice, how to price a home, and how to pick the right time to sell a house depending on the real estate market and the time of year.
The report also lists selling options for homeowners and includes the pros and cons of each.

Selling with a real estate agent: real estate agents have experience and a network of realtors to help an individual sell their home, but they charge a commission fee and have a lot of say in how the selling process happens.
Selling as the homeowner: homeowners can cut out the middleman and don't need to pay any fees to a real estate agent, but they have to invest a lot of time into selling their own home.
Selling to a real estate investor: real estate investors offer good prices for homes and can handle all the paperwork, but the homes may sell when the homeowner isn't ready to mve out, and the sale prices may not be as high as a traditional sale.
Learn all of this information and more by downloading the free report from Real Property Liquidators now.
Click here to stop foreclosure.
About Real Property Liquidators, LLC
Real Property Liquidators, LLC was established in November 2016. Even as a fairly new company, they work with investors who have decades of experience and mentorship to help homeowners come up with the best solutions to sell their homes as quickly as possible. The company covers all of Massachusetts and New Hampshire when it comes to real estate. For more information, please click here to visit their website.