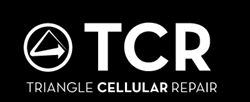 The Fuquay Crossing location will provide a convenient repair option for our customers south of Raleigh.
Fuquay-Varina, NC (PRWEB) June 14, 2017
TCR: Triangle Cellular Repair, a leading provider of mobile device repair services and sales in North Carolina, announced today it will be opening a new location at 1431 E. Broad Street in Fuquay-Varina, North Carolina in July 2017. Adding to the five locally owned and operated TCR locations, the new location will provide the same great customer experience, repair services, and low prices customers expect.
The new location expands TCR's service area by 40 miles from its northernmost Durham location. It is only a few minutes from Holly Springs and Apex. According to Ashley Greenleaf, the company's Director of Operations, "The Fuquay Crossing location will provide a convenient repair option for our customers south of Raleigh. We're excited to extend everything TCR has to offer to Fuquay-Varina: cell phone and tablet repairs, a store for customers to buy and sell used phones, and of course a great collection of cell phone accessories."
The Fuquay Crossing Shopping Center is located near N. Main Street (Highway 401). In the shopping plaza, there are many well-known national and regional stores offering retail merchandise and groceries. These include Kroger, Assaggio's, Cellar 55, and O2 Fitness across the street. TCR customers benefit from this busy plaza because they can shop, eat, or workout while their devices are being repaired.
TCR commonly repairs smartphones and tablets from prominent manufacturers such as the Apple iPhone and iPad as well as the Samsung Galaxy. Most devices are fixed at a fraction of the cost of original manufacturers and cell phone carriers. The company can quickly replace a cracked screen or complete more complex repairs such as replacing buttons, batteries, cameras, and charge ports. In most cases, these repairs can be completed the same day while customers wait or shop.
When customers accidentally drop their phone into water, crack their screen, or find something else broken with their device, prompt repair service is key to maintaining the functionality of the device. Customers who would like to book an appointment at the closest store can do so on their website, http://www.mytcr.com, or call TCR at the company's main line (919) 263-2699. Appointments are not required, so customers may also stop by the nearest location for immediate assistance.
Additionally, the new location will offer more services outside of mobile device repairs. TCR sells high quality certified pre-owned devices in some of the most popular models, and will buy your phone when it's time to upgrade. Plus, TCR partners with local businesses, nonprofits, and schools to provide great deals and repair services groups can rely on.
About Triangle Cellular Repair
Triangle Cellular Repair, also known as TCR, is a leading smartphone and tablet repair shop in North Carolina. The company is committed to offering quick, affordable, and quality mobile device repairs on from all of the major technology manufacturers, including Apple, Samsung, Motorola, LG, Sony, ZTE, Google, OnePlus and more.
The company currently operates the following 5 locations:
Triangle Cellular Repair - North Raleigh
Falls Pointe
9660 Falls of Neuse Rd., Suite 140
Raleigh, NC 27615
Triangle Cellular Repair - Raleigh
Olde Raleigh Village
3120 John Humphries Wynd
Raleigh, NC 27612
Triangle Cellular Repair - South Durham
The Streets at Southpoint Mall
6910 Fayetteville Rd, Suite 196
Durham, NC 27713
Triangle Cellular Repair - Durham
Ninth Street
714 Ninth Street, Suite 101
Durham, NC 27705
Triangle Cellular Repair - Chapel Hill
Greenbridge
601 W. Rosemary St., Suite 105
Chapel Hill, NC 27516
For more information, call (919) 263-2699 or visit the company's website at http://www.mytcr.com.