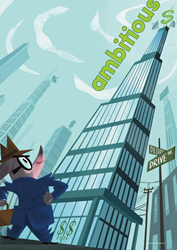 "We're changing the way young people discover, use and retain words. We connect you with the right words and illustrate them in a way that you will instantly comprehend and never forget," says Sofia Fenichell, CEO of Mrs. Wordsmith
London, UK (PRWEB UK) 13 June 2017
Mrs. Wordsmith, the edtech startup that is re-imagining the dictionary, has raised £2 million pounds in seed funding. The round was led by Kindred Capital and includes specialist edtech investor Reach Capital, SaatchiNvest, and Ropart Asset Management amongst others.
Launched in 2016 by CEO Sofia Fenichell to help her own children improve their writing skills, Mrs. Wordsmith is transforming the way young people learn, retain and use the type of words that drive literacy and academic success. Vocabulary is one of the most important indicators of academic success, there is little formal teaching, in such an efficient way, of the 10,000 words that enrich writing and deepen comprehension.
Mrs. Wordsmith has created a subscription-based vocabulary programme that helps young people learn rich and unique words in a way that's visual, and easier to grasp and retain. Working on the neuroscientific basis that our brains better retain information that is unusual, the words have been hilariously illustrated by Mrs Wordsmith's Art Director, Craig Kellman, the award-winning artist behind the films Madagascar and Hotel Transylvania, and his team.
Mrs. Wordsmith will use the funding to continue to develop and improve its popular subscription-based paper product, and to fully develop its intuitive dictionary, the word engine that will understand the context and relevance when a user queries a word. The company will also use the capital to build out its technology team and to expand internationally into consumer and school audiences.
Sofia Fenichell, CEO of Mrs. Wordsmith says, "The dictionary is no longer relevant to young people. And yet, in the digital age, we need words more than ever. The dictionary is a utility that is crying out to be re-imagined, both creatively and technologically. We're changing the way young people discover, use and retain words. We connect you with the right words and illustrate them in a way that you will instantly comprehend and never forget."
Craig Kellman, Art Director of Mrs Wordsmith says, "Education needs better content if we want to draw kids naturally to learning - that's why we're employing funny, entertaining character illustrations to creatively visualize the English language. We want young people to enjoy words more."
Professor Ted Briscoe, who leads the Natural Language and Information Processing Group at the
University of Cambridge, says, "We receive many requests from start-ups wanting to exploit the latest developments in machine learning for language processing. Mrs. Wordsmith stands out from the crowd because they have created an intuitive and visually stunning dictionary that children and schools love. I am excited to join their advisory board and help guide the development of a new generation of digital products building on
their impressive paper ones."
Leila Zegna of Kindred Capital says, 'We are incredibly excited about the ambitious vision and unique approach that Mrs Wordsmith is taking to improve learning outcomes for young people around the globe. The initial product has been a runaway success with customers and achieved impressive uptake and revenue growth, predominantly via word of mouth marketing and customer evangelism, showcasing the strength of the brand that Mrs Wordsmith has already been able to build in a short period of time. We believe the potential of both the physical and digital product set is vast."
Wayee Chu of Reach Capital says, "Mrs Wordsmith is filling a gap in the market for high quality content and visual learning. We have yet to encounter a company that is truly pioneering high quality visual learning. We are impressed by their early traction with both educators and consumers. We believe their products are going to be embraced in the US due to their humor, ease of use and high impact. We look forward to supporting them in their US launch later this year."
Leila Zegna of Kindred Capital and Basma Alireza, angel investor behind electronic gaming companies Playfish and SuperCell, join the Mrs. Wordsmith board. Professor Ted Briscoe, who leads the Natural Language and Information Processing Group at the University of Cambridge, joins the advisory board.
About Mrs. Wordsmith: Mrs. Wordsmith, a venture-backed edtech startup, is creating the world's most intuitive dictionary. Mrs. Wordsmith has built a subscription-based vocabulary programme based on cognitive linguistics aimed at improving literacy. Because our brains better retain unusual memories, the words have been hilariously illustrated by the award-winning artists behind Madagascar and Hotel Transylvania. They are reinforced with daily exercises and games.