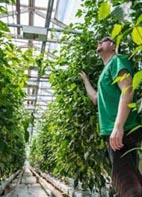 Science, Technology and Humanity are Key Elements of the Monarca Project in Mexico
Houston, Texas (PRWEB) June 13, 2017
Humanity for the first time is an economic value with science and technology for a new high yield agriculture project in rural Yucatan Mexico.
The economics of the new high yield agriculture of the Monarca project in rural Yucatan Mexico is well founded; however Michael Chaplinsky, the president of Turf Feeding Systems and Jack Katz, the CEO of Monarca, a Mexico City company, have a bigger vision and mission.
Jack Katz explains, "We are starting our first phase of our 33,000 hectare biojet fuel project and Michael Chaplinsky, the project director, has created a special team of scientists, engineers and Ron Dodson, an expert in humanities and sustainability.
Michael Chaplinsky has shown us that thinking different about the people and the community has enabled us to create a project driven by economics and humanity together, and we both are very excited about the possibilities.
Chaplinsky states, "Most agriculture projects in Mexico are driven by economics and the return on investment as a value of success, and project managers only see people as workers and not as team members. We are taking another approach looking at workers as team members to be trained, motivated and encouraged. Rural Yucatan Mexico has few jobs, few opportunities with poor education or social services. We are changing the business model by building a team of motived people wanting to work as well as improve their economy, community and their livelihood."
"The project will produce high quality organic vegetables using our high yield agriculture on 120 acres of hydroponic green houses. The facility will include a technology center with a laboratory, a teaching center and a world marketing center for crop production.
The teaching center will include sustainable agriculture classes for local growers to improve their crops and invite them to become our coop growers. We will help them improve farms with our technology and supply them our growing and green house systems, and we will market their crops worldwide in our marketing center."
Chaplinsky concludes, "We plan to start an economic engine in rural Mexico fueled by the year around growing season, abundant water, great sunlight and great people. It will produce organic vegetables and renewable energy. Besides, it is the right thing to do for rural Yucatan Mexico."
Bio:
Mr. Jack Katz is the CEO of Zphere Works, S. de R.L. de C.V headquartered in Mexico City. Mr. Katz has been in the waste to energy business for over 10 years. His background has been focused on integrating government agencies with solutions in waste and environmental issues. He has brought together teams of designs and implementers to structure and install systems that address municipal waste and water quality. Mr. Katz has just launched a municipal waste to energy project for Cancun.
Michael Chaplinsky is the President of Turf Feeding Systems a world leading company in fertigation, headquartered in Houston, Texas. Mr. Chaplinsky has developed new technologies integrating fertigation, new irrigation technologies and special soil treatments to reduce irrigation water up to 50%, reduce fertilizer and chemicals 60% while increasing crop production as much as 50%. Mr. Chaplinsky works and speaks at many agriculture conferences worldwide. He is a world expert in Soil Restoration, Water Efficiency and Sodium Issues in water and soil. He developed a new sustainable agriculture program that restores poor soil and produces higher crop production, while reducing water, fertilizer and chemicals. He states, "The world population has passed 7 billion and will pass 9 billion by 2050; however tillable productive farmland in the world is diminishing. My mission is to restore damaged farmland not bulldoze native forests to increase farmland."