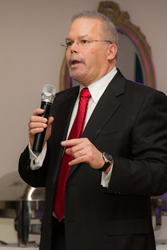 Springfield, MA (PRWEB) June 12, 2017
In June, Dr. Kevin Coughlin of Ascent Dental Solutions will be presenting a podcast for the W.K. Kellogg Foundation on improving access to dental care.
Access to dental care is a complex issue with no easy solutions. Dental caries are the most common disease among children in America. Those living in areas of lower socioeconomic status tend to fare the worst for several reasons. A huge contributing factor is that, while America has enough dentists to care for its total population, they are not well dispersed throughout lower income areas. The cost of care is also a problem for many families. In addition, those with less access to affordable care tend to miss out on dental education that wealthier families take for granted, including the latest information on oral hygiene and the effects of diet on dental health.
To combat issues related to access to affordable dental care, novel solutions are being attempted across the United States. Recent dental school graduates are being offered incentives to work off their education debt by practicing in identified areas. Mid-Level Practitioners (the dental equivalent of Physician Assistants) are being given expanded duties.
Are the above solutions enough? What are some other possibilities?
In a June podcast for the W.K. Kellogg Foundation, dentist and dental business coach Dr. Kevin Coughlin will weigh in on the dental access crisis and his ideas for expanding access to those who need it most.
For more information about Dr. Coughlin's other speaking programs, visit:
https://www.ascent-dental-solutions.com/speaking-programs/
About Dr. Kevin Coughlin
Dr. Coughlin earned his doctorate at Tufts University School of Dental Medicine, and currently serves as a faculty member there. He has been principal owner of Baystate Dental PC since 1983, with a total of 14 locations employing 23 dentists across Western Massachusetts. While he continues to practice dentistry, Dr. Coughlin is also a dental business coach, consultant, and speaker dedicated to helping fellow dentists build their practices. To learn more about Ascent Dental Solutions, visit http://www.ascent-dental-solutions.com or call 1-800-983-4126.