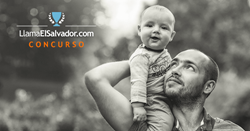 Atlanta, Georgia (PRWEB) June 12, 2017
Some say that everyday heroes, the ones who do not wear capes, are called fathers. And Father's Day is all about them, about saying "Thank you, Dad, for everything you have done for me!" To help Salvadoran expats reach their fathers easier and wish them Happy Father's Day, LlamaElSalvador.com launches a special promotion and a nostalgic Facebook contest.
Between 15-17 June, 2017, anyone who places a Voice Credit order of at least $10 is rewarded 10% bonus for international calls to El Salvador or any other destination in the world.
But this is not all! One lucky customer can also win $10 Voice Credit in a special Father's Day contest hosted by LlamaElSalvador.com's Facebook page. What participants need to do to enter the contest is post a comment talking about the things that make them proud of their fathers. The contest is open between 12 and 18 June, 2017, and the winner will be chosen randomly on June 19.
The free credit comes in handy at the right moment, just before Father's Day. Voice Credit is LlamaElSalvador.com's prepaid service, through which customers can make calls and send SMS all over the world from any phone or computer. The rates to reach El Salvador are 9.9¢/min to Claro landlines, 14.9¢/min to all other landlines and mobiles, and 6¢ for an SMS.
Customers can call anywhere in the world through the widest variety of means.

If they call using an old school mobile phone, landline or payphone, they can do that by choosing the access number that is closest to their location.
If they want to use a smartphone, they can call through KeepCalling smartphone app, available for iOS and Android.
What differentiates LlamaElSalvador.com from other services are the low prices offered, the frequent promotions, and the reliable services. What makes LlamaElSalvador.com even more attractive and trustworthy are the comprehensive help center and the 24/7 customer service, available through email and callback in both English and Spanish.
LlamaElSalvador.com guarantees 100% transaction security and satisfaction. All major payment methods are accepted: Visa, MasterCard, American Express, Discover and PayPal. Moreover, payment is available in several currencies: US, Australian or Canadian Dollars, plus British Pounds and Euros. The payment security system is known as very strong.
LlamaElSalvador.com runs a policy focused on integrating superior customer service, while maintaining the highest standards of technology at affordable rates. That is why LlamaElSalvador.com is the best solution for international calling and texting.
About LlamaElSalvador.com:
LlamaElSalvador.com is a website dedicated to Salvadorans living abroad. The platform is powered by KeepCalling, a global telecommunications company registered in 2002 in USA. Presently, KeepCalling provides its services to hundreds of thousands of consumers , with a focus on customer satisfaction. KeepCalling was listed by Inc 5000 as one of the fastest growing companies in the USA for 5 consecutive years.