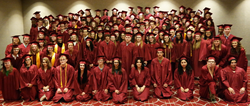 These students have forged new ground, leveraged the power of technology and taken education to another level — developing their own path to success
St. Paul, MN (PRWEB) June 12, 2017
MTS Minnesota Connections Academy, a tuition-free, K-12 online public school serving students statewide, celebrated its 2017 graduating class of more than 270 seniors during a traditional in-person commencement ceremony on Saturday, June 10 at the Minneapolis Convention Center, in Minneapolis, Minn. Peers, family, friends, and school faculty gathered together to honor the students' successes.
"This is a moment that represents years of hard work put in by students, teachers, parents and administrators," said Melissa Gould, principal at MTS Minnesota Connections Academy. "We are proud and honored to have been a part of each and every individual journey. These students have forged new ground, leveraged the power of technology and taken education to another level — developing their own path to success."
The Class of 2017 includes two 'legacy' students who charted new ground for the online school. These graduates have completed their entire education in the online environment, starting with Minnesota Connections Academy in kindergarten or first grade and continuing with the online school through their senior year.
Graduate Maya Snesrud, of Webster, started at Minnesota Connections Academy as a first grader. A talented musician, Snesrud plays multiple instruments, sings in three different choirs and has played piano for 14 years. She plans to attend college and pursue music education after a gap year. Snesrud addressed her peers at the graduation event.
"Today we celebrate one of the biggest accomplishments of our lives...we have poured hours of effort, hard work and time into our education, and have finally received the fruits of our labor," Snesrud declared. "From here, we not only push forward to further our academic careers, our characters, and our knowledge, we enter the world as adults...smart, courageous and passionate young adults, prepared to take on the world..."
Prior Lake's Grant Rubietta, who enrolled in the online school in Kindergarten, graduated Saturday at age 15. Rubietta's story is unique—he was able to progress through his K-12 education at an accelerated pace due to the flexibility of online school. Rubietta also spoke on behalf of his fellow seniors, sharing thoughts on conducting good research and the importance of life-long learning. Rubietta took PSEO college-level courses at the University of Northwestern during his time at Minnesota Connections Academy and plans on attending the University of Minnesota in the fall.
The Minnesota Connections Academy Class of 2017 has been awarded more than $2.2 million in scholarships. Fifty-nine percent of graduates plan to attend two- or four-year colleges or vocational schools. Universities and colleges welcoming Minnesota Connections Academy grads this fall include: University of Minnesota Twin Cities, Saint Cloud State University, University of Minnesota Duluth, Savannah College of Art and Design, Saint Paul College, St. Catherine University, Normandale Community College and Central Lakes College. Thirty-four percent of students plan to enter the workforce upon graduating.
This weekend's in-person commencement ceremony is an example of the many social events and field trips that Minnesota Connections Academy hosts throughout the year to provide in-person socialization opportunities for students. The school also offers various activities including prom, and clubs for robotics, gaming and technology, debate and art, among others, and National Honor Society.
Minnesota Connections Academy serves more than 2,000 students and provides high-quality, personalized online education. The school combines Minnesota-certified teachers with a high-quality curriculum that meets rigorous state education standards. College-bound students can tailor their schedules to accommodate exam preparation and college applications, as well as take advantage of the school's diverse course catalog, including core classes in math, science, language arts and social studies, as well as expanded AP and Career Technical Education (CTE) classes that help prepare them for a 21st century workforce. From music and art courses to computer coding courses through Java Programming, students are not only fostering creative expression, they are mastering digital literacy.
Enrollment for the 2017-18 school year is underway and Minnesota Connections Academy is currently offering free in-person information sessions, as well as real-time, virtual information sessions and parent panels for interested families. For more information, call 800-382-6010 or visit http://www.MinnesotaConnectionsAcademy.com/Events.
About MTS Minnesota Connections Academy
MTS Minnesota Connections Academy is a K-12 online public school program that students across the state attend from home. The program combines state-certified teachers, high-quality curriculum, unique technology tools, an extensive selection of electives and clubs, and community experiences to create a supportive and successful environment for children looking for an individualized approach to education. The program is designed to meet the needs of students and their families who are looking for a unique public school option—those who need a flexible schedule, learn at a different pace from their peers, need more individualized attention or live in isolated rural settings. Connections Academy operates its full-time Internet school program in Minnesota through a partnership with Minnesota Transitions Charter School. Families interested in free online school with some similarities to home schooling, but with the support of state-certified teachers and the accountability of public education, are encouraged to learn more by calling 800-382-6010 or by visiting http://www.MinnesotaConnectionsAcademy.com.