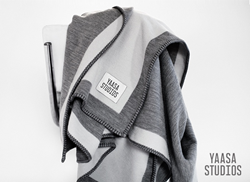 (PRWEB) June 13, 2017
Yaasa Studios, the comfort and wellness company, announced today the release of The infinity Blanket. A perfect balance of luxury, design and wellness. It is the first blanket to use the revolutionary, patented fiber textile known as Celliant®
Celliant® recycles the body's natural energy (heat) into infrared (IR) light that is then emitted back into the body. Yaasa Studios' Infinity Blanket can harness this energy and recycle it back to have a positive effect on the body's overall health.
Infrared is a medically proven vasodilator, which promotes circulation, increases tissue oxygen levels, enhances cell vitality, and regulates body temperature.
THE INFINITY BLANKET
The Infinity Blanket is so comfortable that people will want to have it with them day and night. The benefits of its Celliant® technology never goes away. It is durable, machine washable and the clinically tested technology never fades away.
YAASA STUDIOS
At Yaasa Studios, innovation, wellness, quality, and sustainability is valued most. Yaasa Studios creates, innovates, and empowers global customers to take control of their own lives; to nurture, transform, and live life to the fullest. This is your life designed.
Yaasa Studios is on the cutting edge of supplying products that will benefit everyone at all life stages, and the Infinity Blanket is no different. Yaasa Studios… Rest, assured.
Go to Kickstarter today to back this project and get an amazing Early Bird deal.