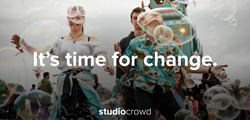 An incredible community of talent is using Creativepool everyday to share and experience creativity. We are thrilled to be working with our launch partners to explore the realms of creativity beyond their traditional routes
London, UK (PRWEB) June 13, 2017
It's time for change.
The first part of a two part launch, studio aims to change the way creative work is sourced.
As brands, from consumer goods giants to fast growing tech start-ups, take ever more control over their creative output and respond to the shift in the nature of content, there is gap in the market for a flexible and disruptive solution to outsource ideas, design and content.
studiocrowd, part one, will present brands with the opportunity to source creativity from a highly influential external creative team of thousands, by engaging them in an entirely unique way to garner professional, authentic and diverse results.
With a quarter of a million members, from graphic artists to idea generators, packaging designers to filmmakers, brands can unleash the potential of the platform by briefing individuals to submit work within a competitive structure.
The first brands to brief the Creativepool community are:

Amnesty International, the human rights charity
Interscope Records, a division of Universal Music Group
Getty Images, one of the world's leaders in stock imagery and video
Creativepool has also partnered with Primesight, Campaign's Media Brand of the Year 2016, to help better develop studiocrowd into a full service platform.
"An incredible community of talent is using Creativepool everyday to share and experience creativity. We are thrilled to be working with our launch partners to explore the realms of creativity beyond their traditional routes." said Heather Deacon, Global Brand Partnerships Director.
For more information visit: creativepool.com/studio/crowd/
About Creativepool
A vertical platform connecting global creatives to build awareness, present opportunities, and promote the sharing of knowledge. Whether you are a professional looking for a new challenge, or a company looking to extend your reach, here is one place to do it all. One of the largest creative industry networks with over a quarter of a million members, and a catalogue of 15 million assets, the award winning website delivers fully responsive content for its users through a fully integrated range of features.
Please contact for further information and assets.