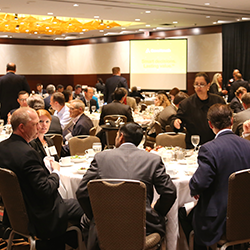 Join Healthcare experts as they address these influences and how to take advantage of value creation investment strategies while avoiding pitfalls.
Chicago, Illinois (PRWEB) June 14, 2017
The chaos around delivery of healthcare continues to provide great opportunities for those who understand what is working and the various perspectives of key segments. Unique access and insights will be shared by leaders from Farragut Square Group, Health Rosetta Group, Edward Elmhurst Health, Surgical Care Affiliates, American Medical Association, Zest Health, Caber Hill Advisors, Pamplona Capital Management, Seven Hills Capital, LLC, Hammond Hanlon Camp LLC, and Golub Capital. They will expand upon this year's focus "The Market Driven Evolution of Healthcare," with topics including:

The Regulatory Perspective
The Patients' Perspective
The Hospital's Perspective: Hospital Behavior & Consumer Consequences
The Payor's Perspective: Transforming the Site of Service
The Physician's Perspective: Digital Health Technologies
The Consumer Perspective: Tele-Medicine & Facilitation as Mainstream Options; and
The Investors' Perspective: Healthcare Market Trends
Daniel Brown, Managing Director of Creative Health Capital, LLC notes, "The prognosis for private equity investments in Healthcare investing is rosy! Regulatory change, demographics, technology and a more educated consumer population are among the many factors driving change and creating opportunities for the savvy investor."
The conference's healthcare leaders address these influences and how to take advantage of value creation investment strategies while avoiding pitfalls. Industry specialists from the legal, investment banking and lending industries also provide their insights on transactions. Now in its 8th year, the ACG Chicago Healthcare conference is the premier event for seasoned industry veterans and newcomers alike.
Investors & investment banks can reserve meeting tables and have a dedicated meeting space throughout the conference coupled with the PitchBook App showing attendees and fund information to easily identify these professionals and their interests, in order to drive more deal flow.
This 8th Annual Healthcare M&A conference will be held June 21, 2017 at the Swissotel Chicago, 323 E Upper Wacker Dr, Chicago, IL 60601. Those interested in attending the conference can find more information about the program, speakers and register by clicking http://2017HCDeals.com.
About ACG Chicago
ACG Chicago is a leader in the Association for Corporate Growth (ACG) global network of over 14,500 professionals. ACG Chicago is the premier network of leading authorities on corporate growth. The Chicago chapter boasts a membership of 1000 foremost authorities who form a diverse and knowledgeable network of corporate executives, capital sources, and key advisors that all share a strong commitment to leadership in the field of strategic corporate growth and to building stakeholder value. The ACG Chicago Board of 20 dedicated members along with almost 100 other committee members focus on the needs of these professionals to build unparalleled opportunities for networking, deal-making, personal growth and professional development. ACG Chicago provides unique access and unparalleled opportunities through local, regional & national events, publications and specialty networks, including operating the MBDA Capital Center for the Department of Commerce.
Visit http://www.ACGChicago.com for more information or call 877-224-6389.