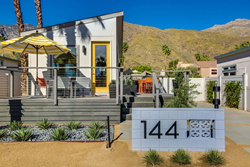 Tiny Homes offer a unique housing options for Palm Springs, and a great condo alternative."
Palm Springs, California (PRWEB) June 13, 2017
The Tiny Home movement is coming to Palm Springs. The first 10 "Micro Homes" are available for sale in Palm Springs, CA at the Palm Canyon Mobile Club.
About 100 new homes are scheduled to fill a vintage mobile home park in this popular resort community in a prime location in Palm Springs, creating the first neighborhood of its kind in southern California. These pre-fab style homes are manufactured in a factory with the interiors complete, then delivered to the home site. Once situated, outdoor decks and porches are added, walkways, driveways, carports, fenced yards, and landscaping to complete the package. Home sales are represented by a local architectural real estate office, The Paul Kaplan Group.
Designed not to be too tiny, the homes are all single level, with no ladders or sleeping lofts, which are commonly found in other "micro home" designs. The one bedroom at the Palm Canyon Mobile Club has 600 square feet inside with up to 550 sf of outdoor deck space, with modern features that include clerestory window, 9 foot ceilings, sliding glass doors, full sized kitchen appliances, a separate bathroom and bedroom.. A 2 bedroom model comes in at about 800 square feet with approx 250 SF of outdoor decking space. The homes also will include covered carports.
Placed on a traditional "double wide" mobile home lot, each space provides ample outdoor room for gardens, decks, BBQs, dog runs and more, rarely found in a comparable condo type home in Palm Springs. Starting price: $126,000, significantly lower then the median priced single family home in Palm Springs, which is about $550,000. Space rent: $650/month. (The average condo fee in Palm Springs is about $550). The space rent includes use of the actual land where the homes are placed, as well as the site improvements: concrete driveway, carport, walkways, and front yard landscape. In addition, the fee covers water, trash and sewer, plus access to the park amenities: an updated resort style club house and pool, outdoor bbq area, dog park, gym and lounging areas.
An added bonus of tiny home living: if by chance you get tired of living in Palm Springs, you can put the wheels back on these home, and have them towed to your new destination.
More info can be found here. The community is located at 1180 S Palm Canyon Drive, Palm Springs. Sales are represented by The Paul Kaplan Group.