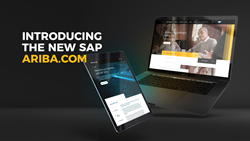 This is a fundamental step in digital transformation, being able to recognize how the website acts as the spine to all customer engagements.
New York, New York (PRWEB) June 13, 2017
As part of a digital transformation journey to bring to life their 2020 vision of creating an awesome customer experience, SAP Ariba has today announced the launch of their new corporate website. The digital agency Vertic was tasked with its strategy, concept and redesign. Positioning SAP Ariba as the most innovate B2B company by connecting all digital marketing touch points to deliver tangible business impact, the site is elevating the bar on B2B customer experience in the market.
"Serving a best-in-class experience for every customer means moving beyond traditional website understanding, to address more complex business needs," says Sebastian Jespersen, CEO at Vertic. "This is a fundamental step in digital transformation, being able to recognize how the website acts as the spine to all customer engagements. The new SAP Ariba.com will be the driving force for tailoring their customer experiences through the intelligent use of data and acting appropriately on its insights."
Vertic developed the strategy, concept and design of the experience in close collaboration with SAP Ariba stakeholders, going through an in-depth customer research and insights process to ensure that the site was founded on a solid understanding of customer needs. The result is the ability to offer customers what they need through a highly relevant and customized experience that uses an intelligent search function powered by AI and machine learning. Based on Sitecore, and connected to back-end internal databases, CRM and lead routing systems, the site serves to support users at every step of their decision journey while also increasing leads and conversion for SAP Ariba.
"We're so delighted to have been on this journey with SAP Ariba, helping them achieve greater Share of Life within their stakeholder audiences" says Jespersen. "This Share of Life model infers that the brand has greater relevancy for their customer beyond the product alone, which is made possible through the intelligence of the site, creating a 'one-with-one' communication with their audience. From this shift in customer experience, we're not just making SAP Ariba the most innovative procurement company or software company, or even most innovative B2B company, but aiming to be on the cutting edge of innovative solutions for all companies. The new SAP Ariba.com will take stakeholder engagement to the next level of customization and ensure the most fluid user experience no matter what the visitor's browsing prerequisite."
The site will have further updates during 2017. Over the next six months, ongoing search optimizations will be made, the site will be localized into eight languages, and campaigns will become integrated into the platform.
About Vertic
Since Vertic's launch in 2002, we've been fiercely dedicated to developing digital solutions that help our Fortune 500 clients build their brands, provide superior customer experiences and generate tangible business results. Our approach is interdisciplinary, combining strategy, storytelling, creativity and interactive design. We're independently owned with offices in New York, Seattle, Copenhagen, and Singapore.