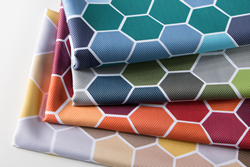 "WeaveUp is in a unique position to help businesses leverage the power of digital printing and met the increasing demand for customization." Eric Jungbluth, CEO, Springs Window Fashions
DURHAM, NORTH CAROLINA (PRWEB) June 14, 2017
WeaveUp, a software-based surface design customization company, today announced that it has received a strategic investment from Springs Window Fashions, one of the largest manufacturers of window coverings in the world. In conjunction with the investment, a representative of Springs Window Fashions will join the WeaveUp Board of Directors.
Demand for customization in surface design applications, including textiles, wallcoverings and flooring, is rapidly increasing as digital printing continues to disrupt traditional printing processes. WeaveUp intends to use the capital to further scale the business, including addressing new verticals and expanding the scope of its platform. In addition, WeaveUp and Springs will also partner on business opportunities to deliver powerful new tools enabling users to leverage the power of digital textile printing.
"This strategic investment will help us continue to improve our product offering and find innovative ways to help more customers create exactly the look they want, without compromise," said Flint Davis, President of WeaveUp. "Springs, which brings a wealth of channel experience in the window covering market, is an ideal partner for our customization and workflow platforms. We are thrilled to welcome them to our robust roster of industry-leading partners."
"We believe WeaveUp is in a unique position to help businesses leverage the power of digital printing and meet the increasing demand for customization," said Eric Jungbluth, CEO, Springs Window Fashions. "WeaveUp's innovative technology helps clients decrease product development time, reduce inventory costs and increase customer choice. We are excited about this strategic partnership, which will enable us to deliver an array of new design solutions to our customers and partners."
WeaveUp has already secured commercial partnerships with other industry-leading manufacturers within the textile and wallcovering categories, including Valley Forge Fabrics, Koroseal Interior Products and Materialised. These partners use WeaveUp to provide custom solutions to commercial, hospitality, healthcare and government clients across the globe.
ABOUT WEAVEUP
WeaveUp's Design Library and proprietary software allow professional designers and consumers to easily customize and personalize thousands of designs and digitally print them on multiple substrates. WeaveUp was founded in 2015 and is headquartered in Durham, NC. WeaveUp. Settle for perfect.TM For more information, please visit https://weaveup.com/our-mission/.
ABOUT SPRINGS WINDOW FASHIONS
Springs Window Fashions, the Best Experience Company, supplies leading retailers and distributors with a complete line of blinds, shades, specialty treatments and window hardware. Bali® and Graber® are brands of Springs Window Fashions. Based in Middleton, Wis., the company has facilities in seventeen locations in the United States and Mexico and employs approximately 8,000 associates. For more information, visit http://www.springswindowfashions.com.
###