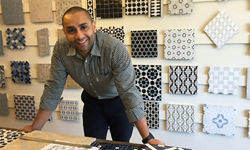 No one knows Zellij Better Than Zellij Gallery.
West Hollywood, CA (PRWEB) June 15, 2017
"Designers can now customize their own authentic Moroccan tile with our exclusive color-matching tool," says Faissel Farhi, founder of Zellij Gallery. No longer are designers forced to use off-the-shelf pre-made designs offered by most tile companies. "Design professionals decide which colors to use," he added, "thus creating their own signature patterns."
To begin, designers should visit zellijgallery.com/signup and register for access. Within 24 hours qualified professionals receive account approval to use Zellij Gallery's color-matching tool immediately. "We want industry pioneers to combine colors on our site and create designs reflecting their clients' true personalities," Farhi said. Users can add their designs to a personal wish list, print color selects, discuss with clients, and then place an order.
With 35 natural, hand-mixed colors (11 new ones just added) and nearly 100 patterns, Zellij Gallery offers the widest selection of Moroccan tile designs available. Handmade by artisans trained for generations in Fez, Morocco, clients should expect some color variation. "It's an age-old process that has been around since the 13th century," Farhi said. "Our tile is authentic."
ABOUT ZELLIJ GALLERY
Zellij Gallery is the leading Moroccan tile maker serving the architecture and design industry in the United States. Founded in 1912 in Fez, Morocco, with a showroom in the world-renowned West Hollywood Design District since 2011, Zellij Gallery colors, cuts and finishes its tiles on location in Northern Africa. Completed projects include high-end residential and commercial projects throughout California and the U.S., royal palaces in Europe and the Middle East and Disney World's EPCOT Center. Connect with us at zellijgallery.com or 323-804-0503.