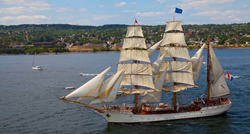 Tacoma, WA (PRWEB) June 13, 2017
Every son and daughter knows the feeling all too well. It's almost Father's Day, there's no lead on a gift and that clever imagination that always seems to be clipping along at full sail seems to have lost its favorable wind. You want something memorable, but not over-the-top. Something tasteful yet surprising. Something adventurous.
Something like a ticket to Festival of Sail Tacoma 2017, the largest event ever on the Tacoma Waterfront.
Picture your father amongst the grandeur of more than a 20 majestic tall ships, thunderous cannon fire and lively music echoing off the hulls of these awe-inspiring vessels. A legendary Fisher Fair scone in one hand and a craft beer in the other.
Truly a one-of-a-kind Father's Day gift he'll never forget.
On Thursday, June 15–18, 2017, behind the slipstream of the 61 ft. tall, 11-ton World's Largest Rubber Duck, more than 20 awe-inspiring historic ships will gallantly sail through the Puget Sound into the Tacoma Waterfront for Festival of Sail Tacoma 2017.
The unique festival will be comprised of a four-day celebration that will include a fleet of globally renowned historic ships with featured vessels that include Bill of Rights, Spike Africa, Virginia V, Schooner Freda B, Hawaiian Chieftain and Lady Washington.  Along with on board tours and day sails, other exciting activities will include live music, entertainment, locally curated craft beer, educational programming, local food and fun for the entire family.
Accompanying the myriad of exciting activities at Festival of Sail Tacoma will be a performance by the legendary Tacoma Symphony Orchestra.
Festival of Sail Tacoma 2017 takes place on June 15-18, 2017 and is presented by Wells Fargo and Alaskan Airlines. For tickets visit http:// http://www.festofsailtacoma.com or call 877-4FLY-TIX.
Connect on social media Twitter & Facebook. 
Downloadable high resolution photos can be found here.