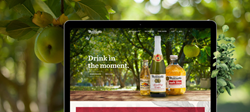 It's one of our best websites and ecommerce stores to date
San Diego, California (PRWEB) June 14, 2017
Mindgruve, one of the fastest growing marketing and technology agencies in the nation, recently launched a new website and ecommerce store for S. Martinelli & Company. More famously known as Martinelli's, the 150-year-old consumer packaged goods company is the leading producer of award-winning apple juice and cider.
"Our goal was to improve the online experience so customers could explore and purchase a wide variety of products," said Chad Robley, CEO of Mindgruve. "Our creative execution captured the brand's rich tradition and history through vibrant storytelling, photography and documentary-style videos.
More specifically, the website guides customers through an immersive digital experience that showcases Martinelli's unparalleled production process, which makes its world famous juices and ciders so uniquely delicious. It also features an interactive timeline, a newsletter known as "The Pippin" and a content-rich blog full of recipes, DIY ideas and company news. Perhaps most impressively, it's fully responsive, meaning the website adapts based on the size of users' desktop and mobile screens.
"It's one of our best websites and ecommerce stores to date," continued Chad Robley. "From strategy and planning to design and technology, it will serve a key role in marketing efforts as we continue to grow the Martinelli's brand and drive sales."
About Mindgruve
Mindgruve is a modern marketing agency composed of strategists, creatives, marketers and engineers from around the world driven by one common purpose—create groundbreaking ideas in marketing and technology that move the needle. Our process is simple, iterative and agile. We work in small teams, solving big challenges in open collaboration with our clients. We dive deep into their businesses, ideate, build, launch and learn. Find out more at mindgruve.com.