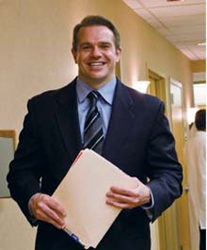 I am grateful for the opportunity to serve in many ways and being recognized by my colleagues provides the drive and motivation to delve deeper into research and seeking answers
Hackensack, NJ (PRWEB) June 13, 2017
Dr. James C. Wittig, Vice Chairman, Orthopedic Surgery; Chief, Orthopedic Oncology and Sarcoma Surgery at HackensackUMC and Director, Skin and Sarcoma Division at the John Theurer Cancer Center in New Jersey will be featured in New York Magazine for the 9th year in a row as one of New York Metros Best Orthopedic Surgeons. The recognition is a true testament to Dr. Wittig's undeniable compassion, direct doctor-patient relationships and ongoing commitment to treating musculoskeletal cancers with the most innovative advances.
The fine-tuned listing of Best Doctors in New York Magazine provides patients with an opportunity to utilize this guide as the resource for the specialty they require. For many current and past patients, finding Dr. Wittig proved to be a positive beginning of an uncertain journey but one guided by a true leader in his field. The difficulties of orthopedic oncology treatments are lessened by the advances that Dr. Wittig has achieved in his 16+ years handling an array of cases from the straightforward to the most complex ones in nature. "Although most would agree that oncology cases are the toughest, I am truly challenged by each and every diagnosis, confronting them with a customized plan as individual as each patient," notes Dr. Wittig, "…and, when you are backed by a team that shares the same commitment and personal devotion to providing an environment that fosters a continuum of extraordinary, multidisciplinary care only enhances the process and leads to the most desirable outcomes."
The sharing of knowledge and expertise goes beyond Dr. Wittig's daily practice. In addition to co-authoring the invaluable 'one and only in-depth guide' to Orthopedic Oncology available today, "Operative Techniques in Orthopedic Surgical Oncology," nine abstracts were presented during the 2016 ACS Clinical Congress in Washington, DC and six orthopedic oncology education videos were presented during the 2017 AAOS Annual Meeting in San Diego, CA. Dr. Wittig's commitment to his field of study expands beyond the boundaries of the surgical suites as well and into the heart of raising awareness for these diseases that affect many, and; in many ways. Recently, Dr. Wittig worked with the NJ based E's Battle Buddies gang to help raise over $100k for sarcoma research at Hackensack UMC. "I am grateful for the opportunity to serve in many ways and being recognized by my colleagues provides the drive and motivation to delve deeper into research and seeking answers," remarked Dr. Wittig.
About Dr. Wittig
James C. Wittig, MD specializes in limb-sparing surgery; pediatric and adult bone and soft tissue sarcomas; melanoma; benign musculoskeletal tumors; metastatic cancers; as well as complex hip and knee replacement surgery. He also has special expertise with regard to tumors that affect the shoulder girdle and scapula. In addition to his Hackensack University Medical Center office located at 20 Prospect Avenue, Suite 501, Hackensack, NJ, Dr. Wittig has a Morristown Office within Tri-County Orthopedics, 190 Ridgedale Avenue, Suite 300, Cedar Knolls, NJ 07927. He is a member of the American Academy of Orthopedic Surgeons; New York State Society of Orthopedic Surgeons, Inc.; and the Medical Society of New Jersey. He has published over 90 educational materials ranging from original reports, abstracts, videos and articles in the following publications: Clinical Orthopedics and Related Research, The Journal of the American College of Surgeons, American Family Physician, Journal of Arthroplasty, Radiology and Journal of Bone and Joint Surgery. He is also a prominent lecturer in the field of Orthopedic Surgery throughout the nation. Dr. James C. Wittig has been interviewed in national and local print, TV and radio outlets including The Dr. Oz Show, New York Daily News and other publications. He has also been recognized as one of "The Nation's Top Doctors" by New York Magazine. For more information about this or other related topics, or to schedule an appointment, please call, in NJ,551-996-2533 or out of state, 1-855-DRWITTIG (1-855-379-4884), visit TumorSurgery.org or email Dr. Wittig at drjameswittig(at)gmail(dot)com.