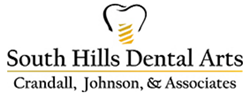 Upper St. Clair, PA (PRWEB) June 13, 2017
Drs. Steven Crandall, Karen Johnson and Kathy Lopez are now accepting new patients for Invisalign® treatment in Upper St. Clair, PA. Invisalign is a bracket- and wire-free system of orthodontics that allows the South Hills Dental Arts team to move the teeth with the use of clear aligner trays. This is not only more discreet for patients, it is often more comfortable as well.
Invisalign offers many other benefits to patients. Since these clear aligners are completely removable, patients do not have to change their diet or clear food from the teeth using special tools or devices. Patients are able to maintain proper oral hygiene routines which may prevent other oral health issues such as cavities, tooth staining and gum disease. Invisalign orthodontics can be a great solution to many common issues, including the following:

Underbite
Overbite
Gaps between the teeth
Overcrowding
Malocclusion
Crooked or uneven teeth
Frequently preferred over traditional braces, Invisalign in Upper St. Clair, PA, requires fewer dental visits for adjustments. Instead, South Hills Dental Arts crafts custom clear aligners that patients switch out every two weeks. With no wires or brackets to pinch and cause sores in the mouth, patients are more likely to have a comfortable orthodontic experience.
Many kinds of orthodontics require the use of messy impressions to get an accurate impression of the teeth. South Hills Dental Arts uses advanced imaging technology to bypass this, making the treatment experience more comfortable and convenient. Patients who would like to learn more about the benefits of Invisalign in Upper St. Clair, PA, can call South Hills Dental Arts at 412-833-6166.
About the Practice
South Hills Dental Arts offers individualized dental care to patients in the Upper St. Clair, PA and Pittsburgh, PA areas. Dr. Steven Crandall, Dr. Karen Johnson and Dr. Kathy Lopez offer experienced dental implant, TMJ, and Invisalign® treatments along with a wide variety of other services at their two office locations. The entire team at South Hills Dental Arts, understand the importance of learning the most cutting-edge treatment techniques to ensure each patient receives effective and comfortable treatment. To learn more about Dr. Crandall, Dr. Johnson and Dr. Lopez or the services they offer, please visit their website at http://www.southhillsdentalarts.com. To schedule an appointment at his Upper St. Clair office call 412-833-6166 or 412-922-9292 for the Ingram Crafton office location in Pittsburgh, PA.