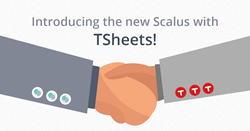 Las Vegas, Nevada (PRWEB) June 13, 2017
Scalus, team management software, announced an integration with TSheets to deliver the award-winning time tracking solution embedded directly into the Scalus workflow dashboard for seamless team management. The integration offers customers the ability to track time in TSheets from within the Scalus application and consolidate time spent by team members on specific clients as well as capture notes as it relates to the billable hour.
Key features of the Scalus integration with TSheets include:
-Scalus workflow automatically pushes your time-tracking data to TSheets time tracking
-Consolidate team, client, and timesheet data with the click of a button
-Take breaks within your workflow and instantly sync them to TSheets
-Track time without ever leaving a single pane in Scalus
"We're excited to welcome Scalus into the TSheets platform partnership program. The Scalus development team did a stellar job building against our open API to deliver a best-in-class time tracking solution that seamlessly merges with their existing application to benefit accountants and their clients globally," said Eric Maier, Head of Platform at TSheets. "Scalus and TSheets together have the potential to be a mission critical solution to help accountants streamline their time capture needs in their daily workflow, just as they are advising their small business clients to do."
The Scalus integration with TSheets was announced at the AICPA Engage conference in Las Vegas, Nevada where the two companies will be debuting the new product feature at the Tech+ theater on Tuesday, June 13th at 12:50pm. Attendees to the product demo session, presented by Kristen Koh-Goldstein, will be entered to win one of two prizes of $500 MGM Grand poker chips.
Scalus is a progress engine that displays a user's workflow and how the tasks tie into the company's larger functions. Scalus comes standard with template driven workflows pre-loaded, including month-end close, payroll, expense management, accounts receivable and accounts payable, in addition to all of the collaboration and workflow benefits of Scalus. The TSheets integration adds a layer to the robust package for time tracking to a specific client that no other accounting workflow solution has accomplished.
"Scalus will tie together your business critical functions – such as accounting, timekeeping, and payroll into one centralized system" said Kristen Koh Goldstein, founder and CEO of Scalus. "The added integration with TSheets was a natural fit for our users as it is the best time tracking solution on the market, and teams must track their time without being bogged down with toggling between systems."
Scalus turns conversations into actionable, repeatable, automated tasks across apps, teams and organizations, adding accountability and oversight long missing from the other collaboration platforms at scale. Compared to other collaboration and task management products on the market, Scalus is designed to uncover the real value of work. The platform strengthens accountability, connects the dots between the entire business process, automates and audits task management and lets workers easily alleviate bottlenecks at all levels of an organization.
About Scalus
Scalus offers an all-in-one solution for workflow, process automation, and communication. The company's platform is the preferred solution for organizations that must onboard its customers and partners quickly and consistently, streamlining sales and revenue operations, allowing teams to collaborate internally and externally. Scalus is based in San Francisco and is backed by Google Ventures, SherpaVentures and others. To learn more about Scalus visit http://www.scalus.com.
About TSheets
TSheets is the cloud-based time tracking and scheduling solution that's changing the way 40,000+ customers track their time in 100+ countries. Accessible via mobile apps or the desktop, TSheets Time Tracker and Scheduling features GPS tracking, overtime alerts, scheduling, and integrations with leading accounting and payroll software including QuickBooks, Xero and Gusto. TSheets'​ simplicity and intuitive interface mean that it's a tool your employees will actually love and use. And with more than 200M employee hours tracked so far (for over $9 billion in payroll this year!) and 2,000+ glowing reviews, you don't have to take our word for it!
# # #
Media Contact:
Shala Burroughs
Scalus General Manager
shala(at)scalus(dot)com
(415) 787-3971