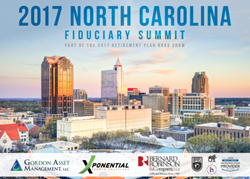 We will also focus on participant outcomes and best practices, since after all, the primary duty of the fiduciary is to act solely in the interest of plan participants and their beneficiaries
Raleigh, North Carolina (PRWEB) July 11, 2017
Xponential Growth Solutions is pleased to announce the 2017 North Carolina Fiduciary Summit. This Summit is part of the national Retirement Plan Road Show, a series of educational workshops that brings together both local and national expertise to interact with employers made up of Finance, Human Resources and Benefits executives, as well as Business Owners, Fiduciaries, and Plan Sponsors. Speakers will provide insights to help employers reduce fiduciary risk, identify plan upgrades, and make better decisions that positively impact participants.
Joe Gordon, Managing Partner at Gordon Asset Management, will lead the discussion on how to be an effective fiduciary and ensure employee retirement success highlighting, "Plan sponsors will appreciate the update on fiduciary best practices and guidelines to adopt right away to stay out harms way. We will explore best practices on fiduciary governance, revenue sharing, compliance with service provider fee disclosure regulations and how to control plan expenses as your plan grows. We will also focus on participant outcomes and best practices, since after all, the primary duty of the fiduciary is to act solely in the interest of plan participants and their beneficiaries for the exclusive purpose of providing benefits."
Guest speakers include Kyle Corum, Senior Manager at Bernard Robinson & Co LLP, as well as Mark Odo, Director of Investments at Swan Global Investments. Other guest speakers are to be announced.
Topics of Discussion:

Retirement Plan Committee Best Practices (Plan fees & benchmarking)
Measuring DC Plan Success
Getting Through To Plan Participants
Fiduciary Rules & Recent Litigation Updates
Alternative Investment Solutions in a Retirement Plan
Fact or Fiction: Common Misconceptions Many Plan Sponsors Have
RFP & RFI Best Practices
The 2017 North Carolina Fiduciary Summit will be held at the Angus Barn 9401 Glenwood Ave, Raleigh, NC 27617 T from 11:00 AM to 3:00 PM (lunch will be served). This educational event is approved for 3 hours of CPE/CPA credits, HRCI/SPHR general credits, SHRM Professional Development Credits (PDCs), and is CEBS eligible. Seating is limited and local plan sponsors will receive priority registration. Additional details and registration information can be found on the registration page:
http://xgrowthsolutions.com/events/2017-north-carolina-fiduciary-summit/
About Gordon Asset Management:
Gordon Asset Management, LLC is an independent investment advisory firm regulated by the Securities and Exchange Commission and serves in a fiduciary capacity in managing ERISA qualified retirement plans. Managing partner, Joe Gordon, has extensive experience in the retirement plan field; having served as an ERISA 3(21)A(ii) fiduciary in the '80s and '90s while successfully running a 401(k) record-keeping & TPA firm. Since the origin of the firm in 2001, Gordon Asset Management has operated as a plan level fiduciary with or without discretion, under ERISA 3(38) or ERISA 3(21)A(ii). The firm manages over $1,100,000,000 in assets and advises more than 170 401(k) plans. The firm is CEFEX certified as an investment advisor through the Centre for Fiduciary Excellence
(http://www.CEFEX.org).
For more information, visit http://www.WealthQB.com.
About Xponential Growth Solutions:
Xponential Growth Solutions (XGS) unites 401(k), 403(b) and retirement plan sponsors with elite resources and exclusive connections. Through research, fiduciary summits, and industry expertise, they help the nation's retirement plan sponsors, fiduciaries, and trustees evaluate their plan and navigate the retirement plan industry. Working to help America reach their retirement goals one retirement plan at a time, XGS also founded the Retirement Plan Roadshow - a national series of fiduciary educational summits dedicated to human resource, finance and business professionals in charge of America's 401(k), 403(b), and retirement plans.